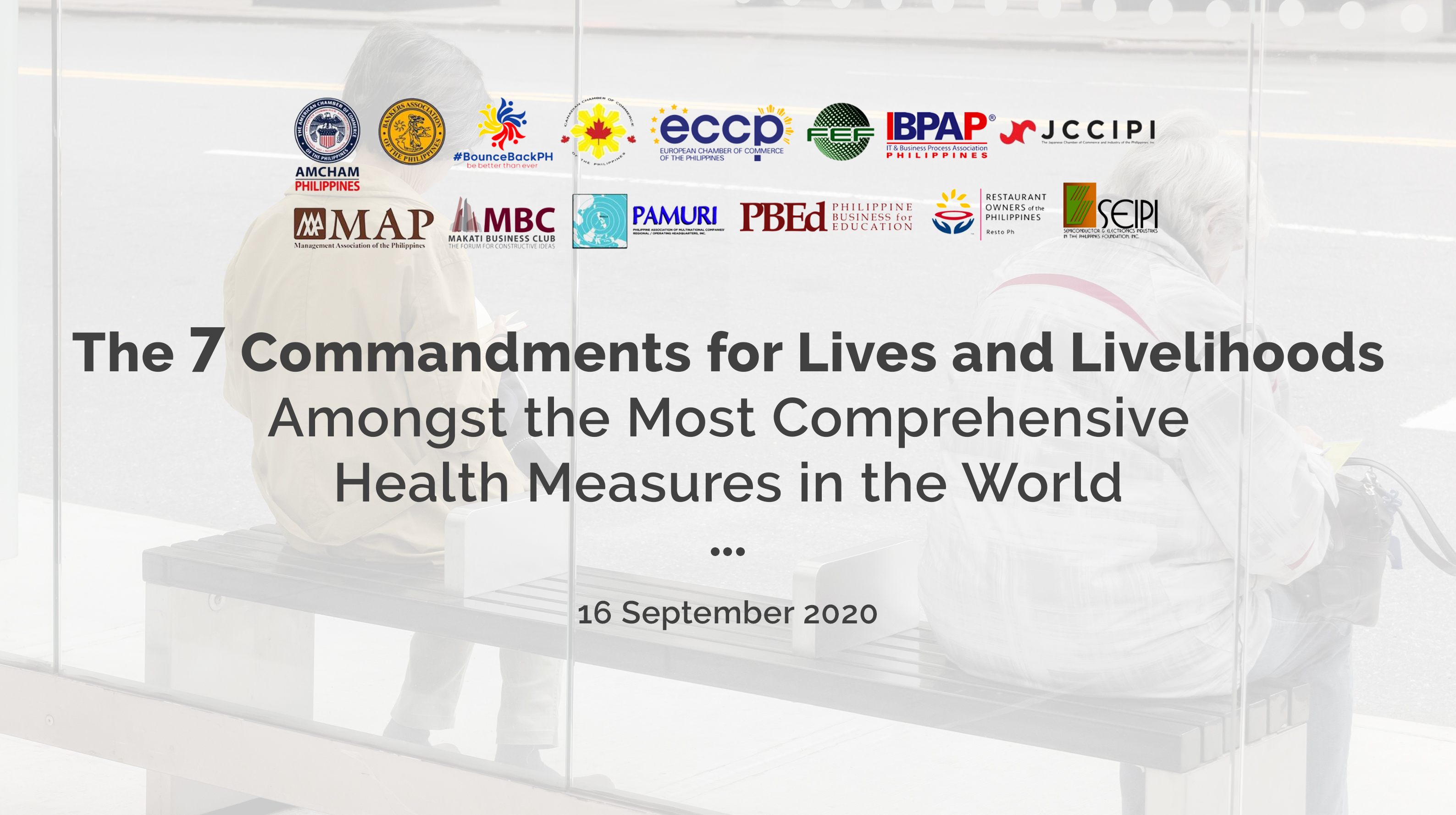 The undersigned business and professional organizations call for revitalizing the country safely and restoring livelihoods, by gradually increasing public transport capacity, in conjunction with the "The 7 Commandments" of public health measures proposed yesterday by an expert panel of doctors led by former DOH Secretary Dr. Manuel Dayrit.
We recognize that most Filipinos still need to move around to reach their workplaces, meet essential daily needs, and provide assistance to the vulnerable sectors. Limiting public transportation encourages more crowding and longer queuing, which lead to further exposure to the virus. People should practice physical distancing where appropriate but be given alternative options to relax this requirement where the risks are manageable.
We believe that the safe and gradual increase in public transport capacity is a critical step towards achieving the long-term objective of building a revitalized and more resilient Philippines. To restart the economy safely, there is a need to immediately focus on rebuilding national confidence through vigilance, discipline, and education through the 5T's Plan (see below), of which Transportation is at present the key bottleneck.
T3 (Test, Trace, Treat): Public and private collaboration to support the National TaskForce's plan of "Prevent, Detect, Isolate, Treat, and Recover (PDITR) and ensure the safety of workplace
Transportation: Safe public transportation to enable mobility of consumers and workers
Transformation: Shifting mindsets to shared responsibility among government, citizens, and the private sector to enable coexistence with the virus
Under Transportation, we must both (a) increase the overall supply of various modes of transport (buses, trains, jeeps, TNVS, motorcycle taxis, walking, cycling, and shuttles), and (b) increase vehicle capacity utilization safely, to ensure that more Filipinos can go back to work.
In this view, we recommend that the government adopts "The 7 Commandments", which their medical expert proponents believe allow us to manage viral transmissions well even when reducing physical distancing requirements. Backed by science and global best practices, this combination of health measures will be one of the strictest in the world and will enable better public transport:
Wearing of proper face masks
Wearing of face shields
No talking and no eating
Adequate ventilation
Frequent and proper disinfection
No symptomatic passengers
Appropriate physical distancing
We believe a combination of these measures will be amongst the most comprehensive in the world. By ensuring strict enforcement, we would be able to relax physical distancing
requirements in order to increase our current public transport capacity, while minimizing the spread of the virus.
With regards to appropriate physical distancing, the World Health Organization recommends: "To the extent possible, keep a distance of at least 1 meter from other passengers when purchasing tickets, waiting to board public transport, and moving around public transport stations."1
We agree with Dr. Dayrit and the expert panel of doctors that "while WHO recommends keeping a distance of 1 meter from other passengers to the extent possible, it allows for adjustments based on context. Given our other recommended health interventions, we propose the gradual reduction of the physical distancing norm during transit to 0.5 meters or lower. Based on our review of the scientific literature and the policies and experiences of neighboring countries, we believe the evidence shows physical distancing can be maintained below 1 meter, so long as other health measures are also implemented."
#################

The Signed statement on The 7 Commandments for Lives and Livelihoods Amongst the Most Comprehensive Health Measures in the World can be downloaded in the link below.
https://www.eccp.com/storage/app/media/uploaded-files/Org%207%20Commandments%20for%20Lives%20and%20Livelihoods.pdf
For further information, please contact Romeo Bernardo, Vice-Chairman of Foundation for Economic Freedom at romeo.lopez.bernardo@gmail.com.