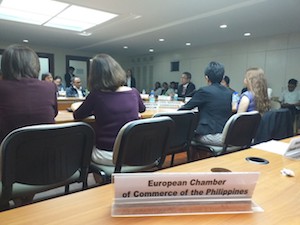 Last 15 April, ECCP attended the Public Consultation on the EODB Implementing Rules and Regulations. The updated IRR, following the said consultation, can be viewed here. 
As summarized by the DTI team, the key outcomes of the discussions are: 
Clarify the distinction of the judicial functions of executive agencies and provide a criteria or guidelines.

Recommendation to include judicial and legislative bodies in the IRR that shall be consistent with the provisions of AO25.

Recommends to include criteria on presumption of prior approval in the IRR

Government agencies may apply for a multi-stage system provided that the processing time shall not exceed 40 days to be approved by the Authority. 

Suggestion to add examples of back-end services in the definition of terms

Extend the submission of the list of signatories and alternate signatories from 30 days to 90 days from the effectivity of the IRR

Specify in the coverage of the IRR whether quasi-judicial refers to those cited under the Constitution or includes those cited under the special laws. 

The Authority may forward complains to either CSC or the Ombudsman on behalf of complaints who wish to be anonymous.