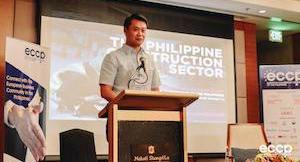 The ECCP hosted a Luncheon Meeting with Senator Sherwin Gatchalian on Economic Liberalization: A Building Block for Growth last 24 April 2019, at the Makati Shangri-La.
During the luncheon, the Secretary discussed key points including:
The share of the construction industry to the country's GDP (2009-2018) has an average growth rate of 12.4%, with the private construction sector having a bigger share than the public sector.
Due to this, employment has also gradually increased, posting an average growth rate of 7.9% or 9.4% of total country employment.
Figures show that the construction sector has been one of the least productive industrial subsectors (compared to electricity, gas, water supply, manufacturing, and mining and quarrying) with Php 607K generated per employee.
The cost of construction in the Philippines is the second highest within the ASEAN region (with Singapore being on top of the list), due to the lack of competition, with the Philippines being one of the most restrictive in terms of equity participation for foreigners. Average foreign equity ownership among ASEAN members is at 71%, while the Philippines is at 50%.
3 bills to reform construction sector:

SB 1907. Foreign companies to participate in locally funded projects. If the entry of efficient foreign companies in the Philippines will be allowed, there will be better delivery of basic services.
SB 1909. Removing nationality requirement in the PCAB regulatory requirementswill place both local and foreign companies on equal footing. This will allow companies to participate in Build, Build, Build program and complex infrastructure projects.
SB 1921. Seeks to remove the 83-year old Commonwealth Act No. 138 which provides domestic preference in the procurement of goods and services. This will help stir competition for goods and services, and open government procurement to foreign companies.

Potential impact of liberalization on construction cost (conservative to optimistic)

Sector share to total FDA: 2.2-3.76%
Growth of gross value added share to GDP: 15.8-17.9%
Reduction in construction cost: 18.4-34%
Additional employment: 154 to 184 thousand

Among establishments engaged in construction activities, almost 90% comes from MSMEs.
For more information on upcoming ECCP Luncheon Meetings, click here to view our Upcoming Events.