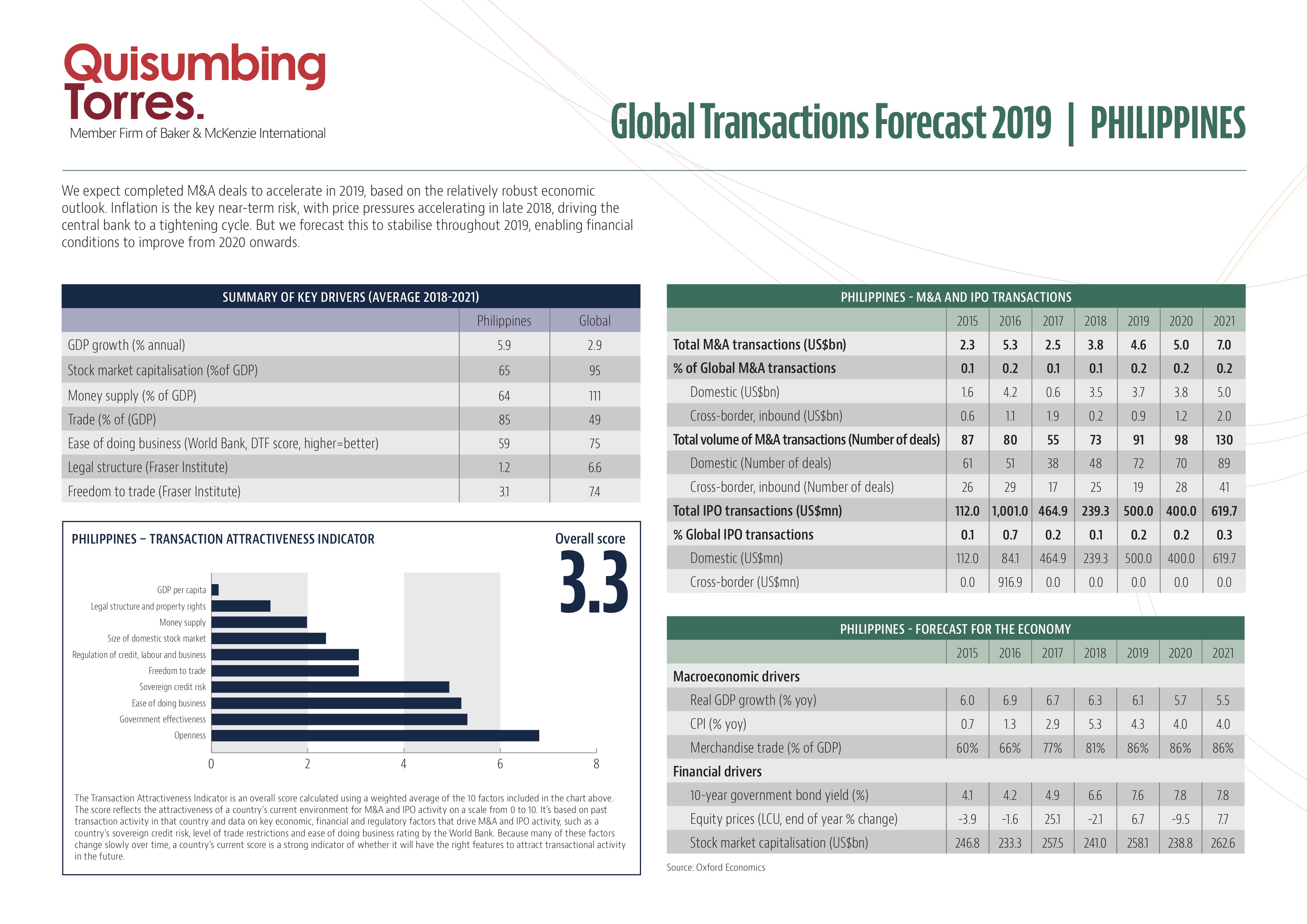 Philippines, March 2019 - The Philippines will see an uptick in deal activity in 2019, buoyed by the robust economic outlook, according to the fourth edition of the Global Transactions Forecast, issued by Quisumbing Torres, member firm of Baker & McKenzie International.
The report, based on forecast macro economic indicators from Oxford Economics, projects that 2019 is likely to be a year of two halves. Several major transactions announced in 2018 are set to complete in the first half of 2019, while underlying economic conditions should remain strong throughout this period.
Despite slower world trade growth, globally emerging markets appear more resilient to rising Fed rates than in the past, meaning US monetary policy should have less of a drag on Asia-Pacific deal- making in 2019 than during previous cycles.
Philippines to experience upward deal momentum in 2019
According to Oxford Economics: "M&A deals in Philippines are expected to accelerate in 2019, based on the relatively robust economic outlook. Inflation is the key near-term risk, with price pressures accelerating in late 2018, driving the central bank to a tightening cycle. But we forecast this to stabilise throughout 2019, enabling financial conditions to improve from 2020 onwards."
The forecast predicts Philippines' total M&A transactions to be at US$4.6 billion in 2019, with an estimated 91 deals transacted, an increase from the US$3.8 billion transaction in 2018 for the 73 deals. On the IPO front, there is a sizeable bump for 2019 to US$500 million from this year's very soft IPO market of US$239.3 million.
Global Sectors Outlook
Consumer-facing sectors are likely again to have a strong year in 2019 as accelerating wage growth in advanced economies will boost household spending in 2019. Similarly tech and telecoms should have another good year with some key megadeals set for completion.
Pharma and health deal completions have disappointed in 2018. However, with a number of significant deals announced later this year we forecast a modest acceleration into 2019. Likewise, in the finance sector, where deal values cooled in 2018, scope remains for consolidation, and traditionalbanks' desire to access Fintech will also drive growth.
Finally, a rebounding oil price has likely eased the need for further consolidation in the energy sector, and we expect this industry to continue to ebb as a deal driver. But the basic materials sector has been more active, and there is evidence that new metals and minerals (such as those used in electric vehicles) will be key resources driving dealmaking in the year ahead.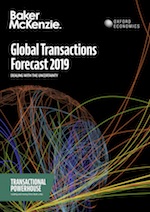 Click here to download the full report »
---
Global Transactions Forecast
Oxford Economics have used statistical techniques to estimate the historic relationship between M&A and IPO activity and key drivers, such as GDP growth, equity prices, trade flows, money supply, legal structure and property rights and freedom to trade.
In estimating global transactional activity, the forecast uses data on completed deals rather than announced deal values. From an analytical modeling perspective, it makes more sense to use completed deals for forecasting as it reflects actual outcomes. When calculating estimations, Oxford Economics grouped countries according to standard IMF classifications.
About Quisumbing Torres
Quisumbing Torres is a full-service law firm and the official Corporate Legal Partner 2019 of the European Chamber of Commerce of the Philippines. For more than five decades, it has helped top multinational and domestic companies drive their growth in the country. The firm provides global reach with deep local roots, seamlessly delivering exceptional and effective legal advice and assistance to clients across borders.
Presently, QT is a team of more than 50 Philippine lawyers. It advises clients in the Banking & Finance, Corporate & Commercial, Dispute Resolution, Employment, Immigration, Intellectual Property, and Tax practice areas.
About Oxford Economics
Oxford Economics was founded in 1981 as a commercial venture with Oxford University's businesscollege to provide economic forecasting and modelling to UK companies and financial institutionsexpanding abroad. Since then, we have become one of the world's foremost independent globaladvisory firms, providing reports, forecasts and analytical tools on 200 countries, 100 industrial sectors and over 3,000 cities. Our best-of-class global economic and industry models and analytical tools give us an unparalleled ability to forecast external market trends and assess their economic, social and business impact.
Headquartered in Oxford, England, with regional centres in London, New York, and Singapore, Oxford Economics has offices across the globe in Belfast, Chicago, Dubai, Miami, Milan, Paris, Philadelphia, San Francisco, and Washington DC. We employ over 130 full-time people, including more than 120 professional economists, industry experts and business editors—one of the largest teams of macroeconomists and thought leadership specialists.