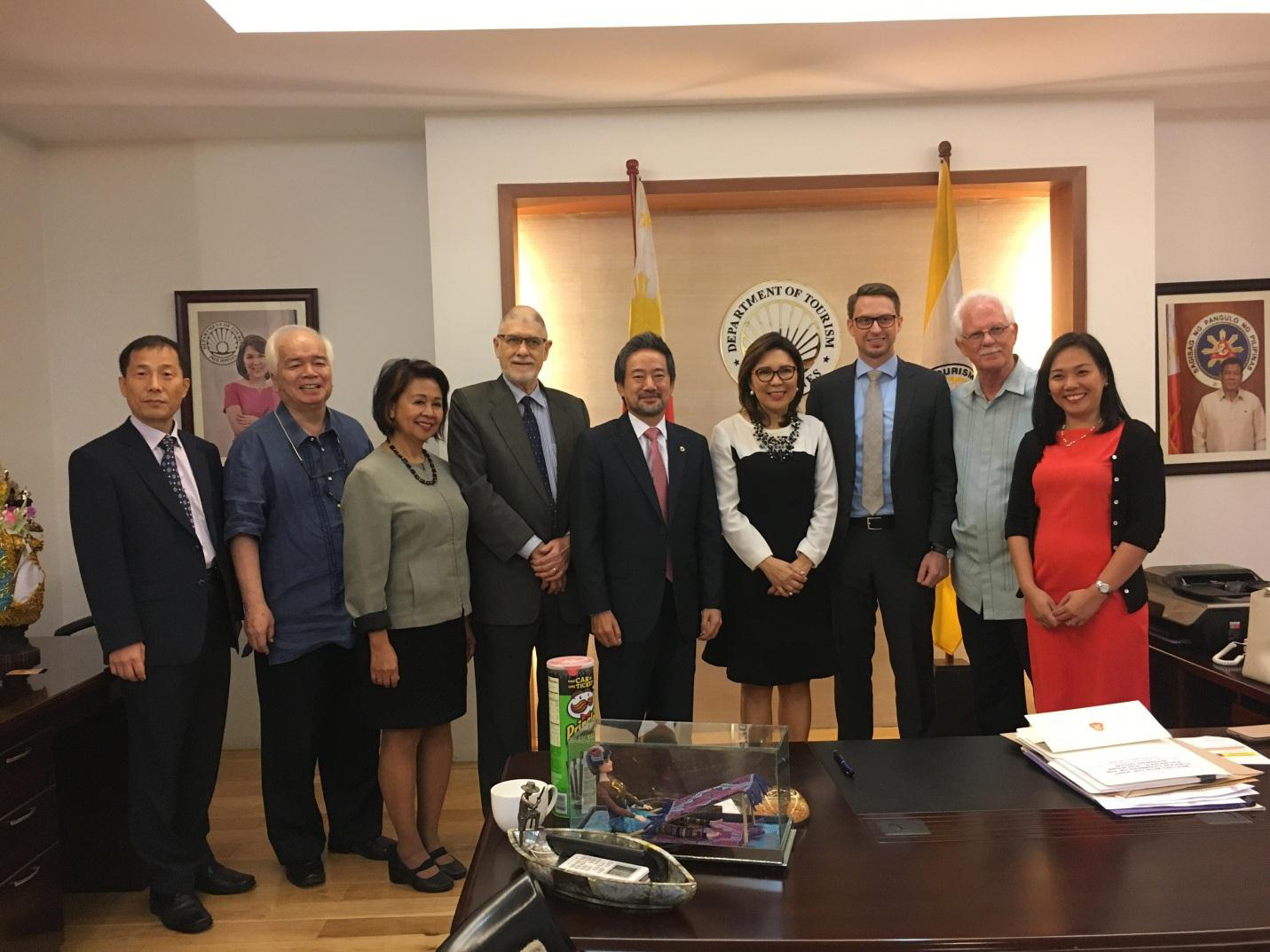 In Photo: [L-R] Inshik Park, KCCP Advise, Nobuo Fujii, JCCIPI Vice President, Cora Dela Cruz, Cancham Executive Director, John Forbes, AmCham-TAPP Senior Adviser, Ho Ik Lee KCCP President, DOT Sec. Wanda Corazon Teo, Florian Gottein, ECCP Executive Director, Ebb Hinchliff, AmCham Executive Director, Lee Velasco, Member, AnzCham
Last February 22, 2017, the Joint Foreign Chambers had a meeting with the Department of Tourism Sec. Wanda Corazon Teo and Usec. Alan Canizal, Undersecretary for Administration and Special Concerns.The meeting began with a brief introduction of the Joint Foreign Chambers and Arangkada by KCCP President Ho Ik Lee followed by a discussion on the group's major activities. AmCham-TAPP Senior Adviser John Forbes also gave a copy of Arangkada's Fifth Anniversary Assessment: A Bolder & More Inclusive Decade, Airport Policy brief, and Tourism, Medical Travel and Retirement Policy Note. Other points for discussion included the Philippine Tourism Plan 2016-2022 & Priorities of the Department of Tourism, Medical Tourism, and the Airport Policy Brief.
The Department of Tourism priorities is to help many under-developed tourist destinations, especially those in Visayas and Mindanao. Improving infrastructure remains high on DOT's agenda; the said agency is working closely with the DOTr and DPWH to keep things in motion. They are also expecting around 40 million inbound tourists in a span of six (6) years.
DOT and the Tourism Infrastructure and Enterprise Zone Authority (TIEZA) also mentioned that they are ready to implement tourism enterprise zones. The five flagship tourism enterprise zones were identified as Bataan, Bohol, Siargao, CDO, Davao and Masbate.