The ECCP provides a number of advertising opportunities to ensure that your company or brand has excellent visibility among its member companies.
With this powerful marketing opportunity, you're sure to benefit from our garnered market and network through whichever publication you select for promotion.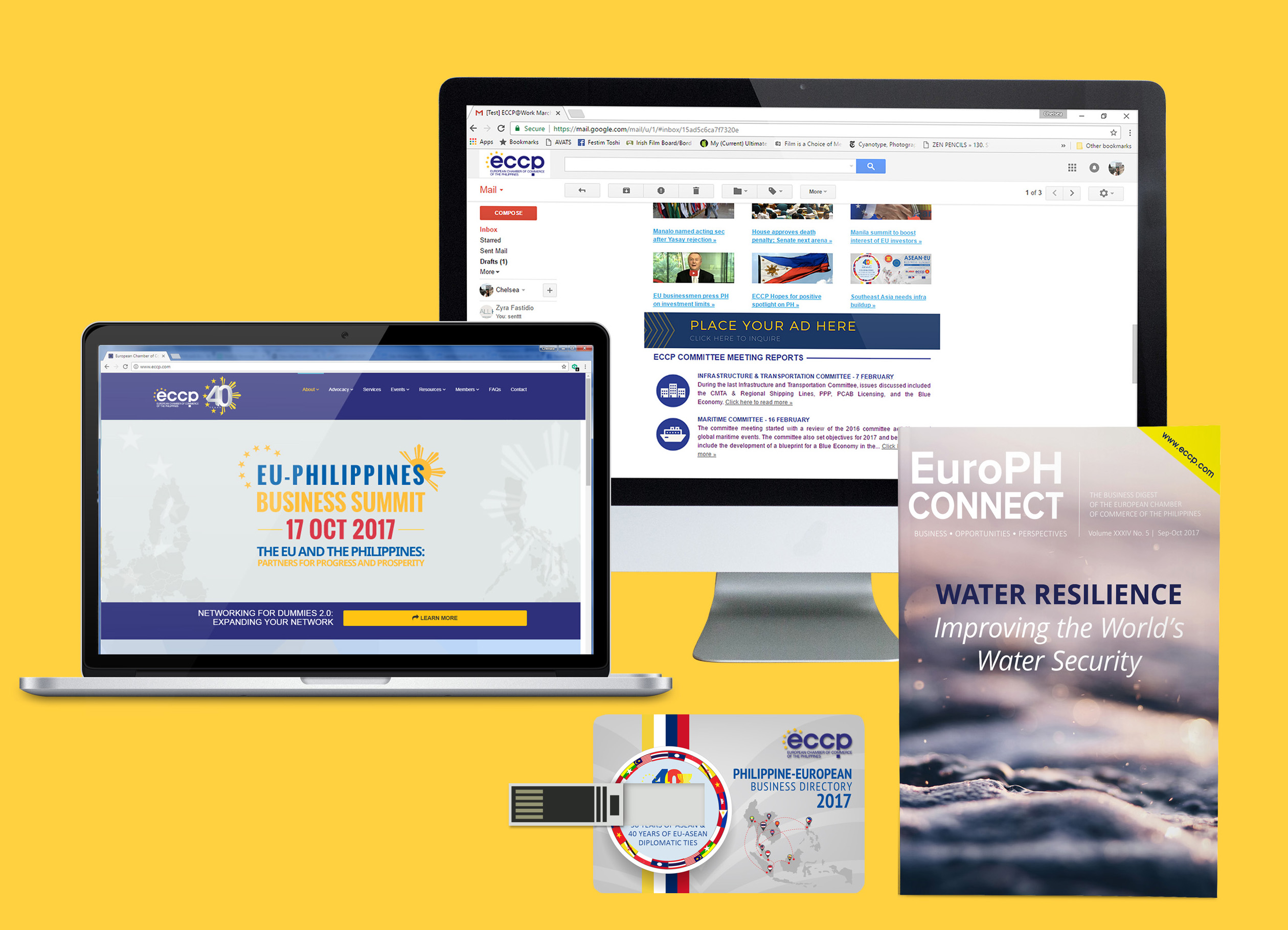 Digital Media
We have two (2) types of Digital Media Platforms that are open to advertisements as described below: [1] The weekly ECCP membership newsletter,eccp@work and [2] the ECCP Official Website.
There are four (4) campaign duration options for advertisements: Monthly (1 month), Quarterly (3 months), Semi-Annual (6 Months), and Annual (12 Months). Bigger savings are available when you choose to advertise for a longer campaign period. Further discounts are also available for ECCP Members.
ECCP.COM
ECCP.COM serves as the official website of the European Chamber of Commerce of the Philippines and the central repository of information of the Chamber.
The Website is constantly visited by a pool of business-oriented individuals from a wide-range of industry sectors. It has an average traffic of 5,000 total monthly visits with 4,000 being unique visitors and 10,000 monthly page views.
This ECCP Official Website has two (2) advertising space options:
Extended Full Banner (468x60) pixels.

Location: Left Bottom/ Center Bottom
Visibility: Random on Page Refresh, Home Page

Square Banner (250x250) pixels.

Location: Top Right.
Visibility: Random on Page Refresh, Internal pages

The eccp@workNewsletter is an exclusive newsletter sent on a weekly basis to ECCP Members. The ad material can be in PNG, JPG or GIF hyperlinked to a website of your choice and can be changed depending on your campaign.
The ECCP@Work offers the following ad space options:
Extended Banner 1

(prime spot, appears right after
the Executive Director's message)

Extended Banner 2

Extended Banner 3
Print Media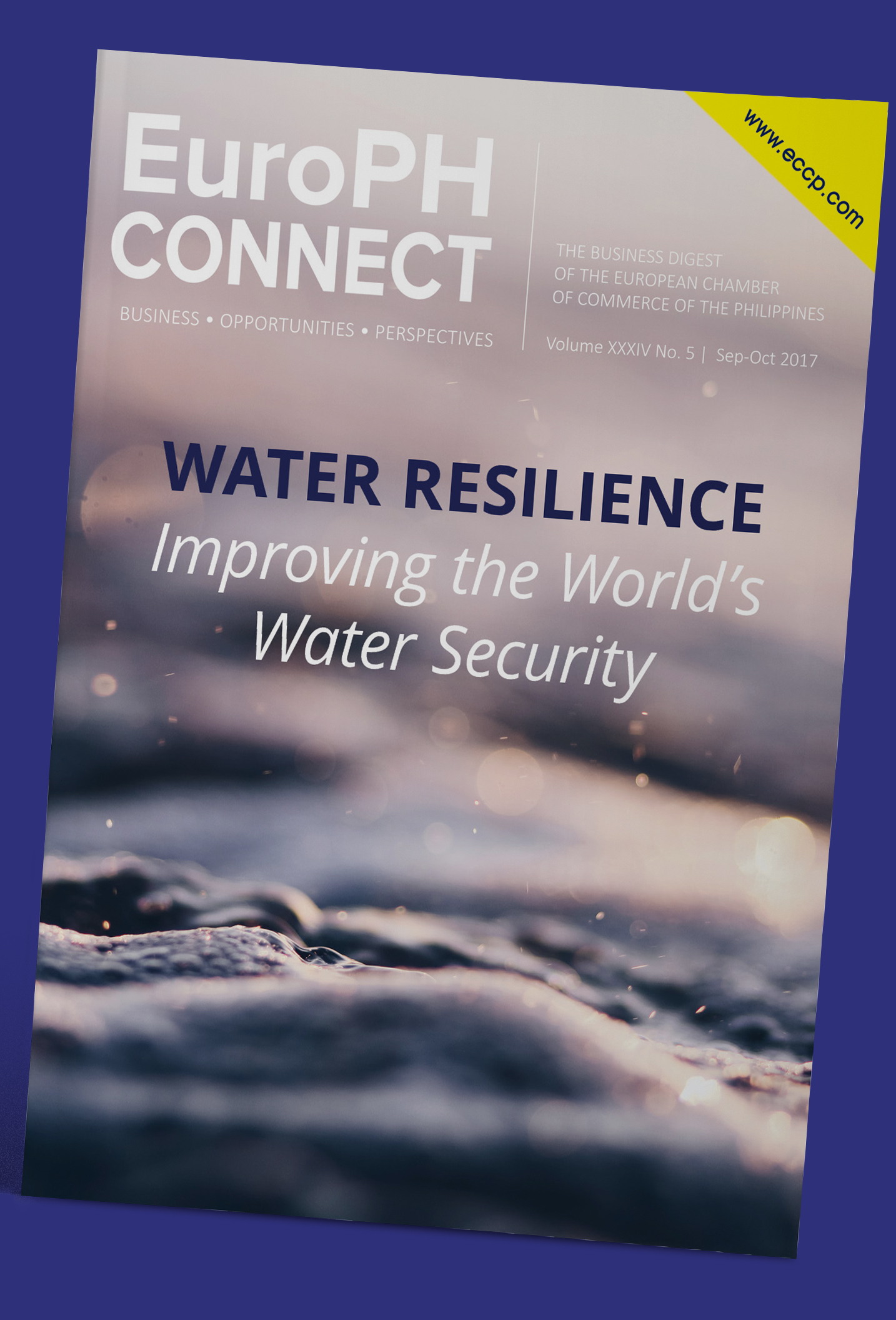 EuroPH Connect Magazine
The EuroPH Connect Magazine is a bi-monthly Membership Magazine containing the most relevant issues surrounding Philippine and European Businesses.
Advertise in the EuroPH Connect Magazine and reach out to top-level executives and decision makers. The magazine is distributed to ECCP members such as Executives, Diplomatic Missions, Government Agencies, International Organizations, and Foreign-Based Companies both in the Philippines and Europe, as well as in ECCP Events.
Below are the advertising options for the EuroPH Connect:
Cover Page
Inside Front Cover
Page 1
Full Page Ad
Half Page Ad
Quarter Page Ad
Inside Back Cover
Philippine-European Business Directory
For more than 30 years, the Philippine European Business Directory has been circulated to all of the ECCP's local and foreign members, and to the Chamber's regular clients and partners. It is considered as the first choice of reference by European and Philippine Executives in acquiring business contacts. The directory contains detailed profiles of each ECCP member coming from various sectors, and is one of the avenues that generates business contacts between ECCP members and clients. This is why advertising with us in the PEBD is one of the best ways to boost your company's visibility in the European Business Community and to promote your products and services.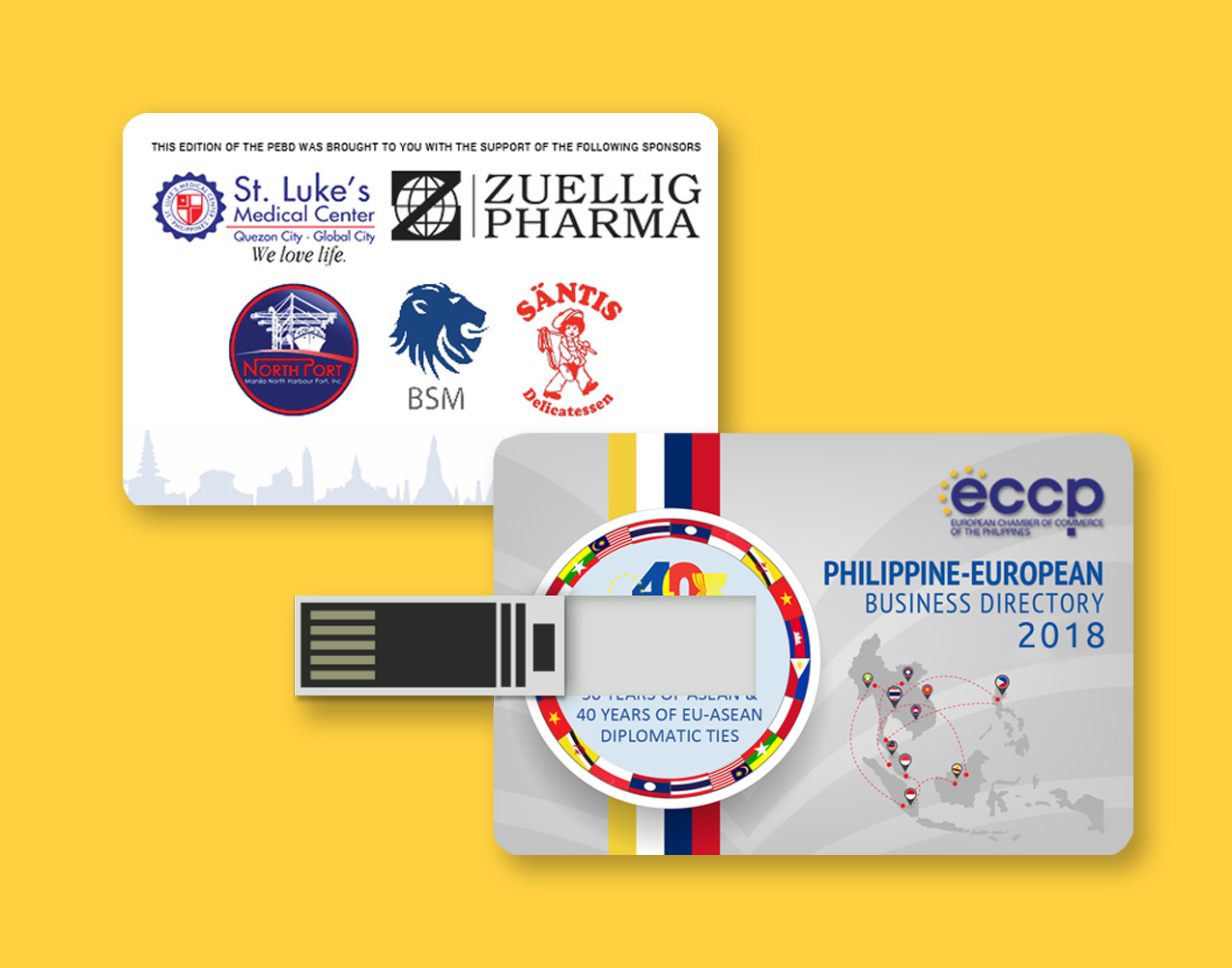 Two years ago, we transitioned into a digital directory and along with this transition, we now offer the following advertising spaces:
Prime Spots

USB Logo

(company logo printed in the flash drive + free full page ad inside the digital directory)

Page 1

(landing page)

Ad Spaces

Full page ad

(ads located inside the directory depending on the preference of the advertiser)

Binder ads

(ads in the right hand side of the directory in 15 consecutives pages)
Start maximizing your business potential through advertising with ECCP and its vast business network!
Check out our Publications page to know more about each advertising option. For inquiries, you may contact us at publications@eccp.com.