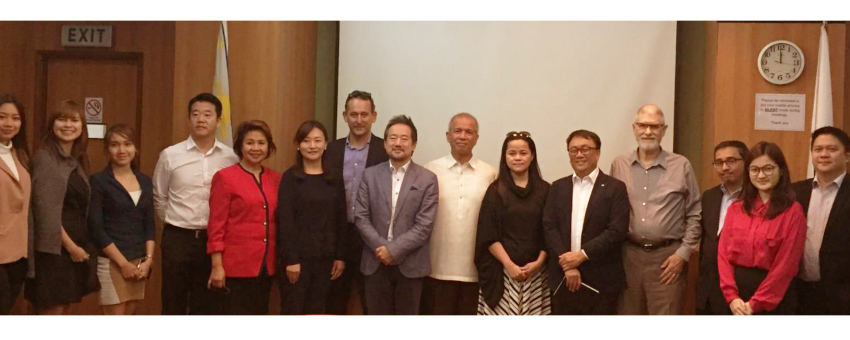 (L-R): Semiconductor and Electronics Industries in the Philippines Foundation, Inc (SEIPI) Analyst Jan Abejero, SEIPI Business Lead and ManCom Mabelle de la Cruz, SEIPI Senior Analyst Lezlie Batarao, KCCP Director Joo Won Kim, CanCham Executive Director Cora dela Cruz, KCCP Director Julia Lee, ANZCham Member Brett McPhee, KCCP President Ho Ik Lee, SEIPI President Dr. Danilo C. Lachica, SBMA Administrator and CEO Atty. Wilma Amy T. Eisma, AmCham 2nd Vice President, Manufacturing Committee Chairman, and Dow Chemical Country Director Roberto Batungbacal, AmCham-TAPP Senior Adviser John D. Forbes, ECCP Manager for Project and Partnerships Archie H. Diaz, Dow Chemical Business Development Leader Errol R. Ignacio, AmCham-TAPP Advocacy and Research Specialist Jannica Anne Gaisano. (Not Pictured) AmCham Executive Director Ebb Hinchliffe and AmCham Membership Manager Pauline Santos.
The Joint Foreign Chambers of Commerce of the Philippines with representatives from the AMCHAM, ANZCHAM, CANCHAM, ECCP and the Korean Chamber with the special participation of the representatives from SEIPI, paid a courtesy visit to the SBMA Administrator and CEO, Atty. Wilma Amy T. Eisma.
1. Introduction
The representatives of the respective Chambers and SEIPI introduced themselves and their objectives of joining the visit. Atty. Eisma explained she had been in office only for several months but started her career as a young lawyer with SBMA as Executive Assistant to the Chairman and member of the Legal Department during 1993 to 1998. She continued her public career as Head Executive Assistant and Legal Counsel to House of Representatives Majority Floor Leader from 1998 to 2000 and as Chief of Staff of the DTI Secretary for a year. She is a seasoned lawyer with over 23 years of experience in both government service and the private sector. 2. Presentation about the Subic Bay Freeport
Atty Eisma gave a presentation about the Freeport – its background, current status, and plans for expansion by SBMA. 2. 1. Background
The then Subic Naval Base and Olongapo City were one of the major areas affected when Mount Pinatubo erupted on June 15, 1991.
After 90 years as an American military facility, Subic was turned over to Philippine management after the Philippine Senate rejected in 1992 the extension of the 1947 US-Philippines Military Bases Agreement.
Around 8,000 volunteers led by SBMA Administrator Richard J. Gordon took over the facility to protect the vacant US$8 billion facilities, properties, and infrastructure from looting.
R.A. 7227 created the Subic Bay Metropolitan Authority to promote and develop the Subic Special Economic Zone into a self-sustaining, industrial, commercial, financial, and investment center to generate employment opportunities in and around the zone and to attract and promote productive foreign investments.
2.2. Status
The freeport zone has 1,536 locators, a workforce of 112,593, and 8 million visitors in 2016.
Hanjin is the biggest locator with its high-tech and world class shipyard located on the Redondo Peninsula. Hanjin launches 2 – 3 ships every quarter. The company provides housing and school for its workers and their families. A training center for shipbuilding has been set up.
The port offers a variety of opportunities for investors:

Logistics: port operations, warehousing, airport operations, and transhipment
Manufacturing and heavy Industries: shipbuilding, ship repair, industrial park development, electronics/components manufacturing, consumer goods, renewable energy, and garments
Services: hotel/resort development, housing development, retirement communities, golf course, gaming and leisure, ecotourism, medical tourism, and retail/restaurants
ICT: software design, call center, business process outsourcing, and animation
Education: school complex, primary, secondary, tertiary, post-graduate, skills development center, and research & development

Atty. Eisma told the JFC that SBMA signed an Integrity Pledge under the Integrity Initiative and is committed to implement corrupt free practices within the zone. SBMA employees and locators are required to sign the Integrity Pledge.
Atty. Eisma stressed that SBMA does not allow smuggling in the port. To discourage smuggling, commodities such as rice, sugar, and other agricultural products are not allowed entry unless they have permits from the NFA and Customs Bureau. Marking of petroleum fuel, first introduced in the port to control smuggling, will be implemented by the BOC nationwide. The seaport team and the BOC have formed a task force for its implementation.
2.3 Major Developments
Singapore-based Interflour Group (operator of flour mills) committed to invest US$30 million at the Subic Bay Gateway Park Phase II.
Re-development of 85-hectare Subic Bay Golf Course and development of a retirement village
Jobin Inc.'s 800-hectare 150-MW solar and wind energy project.
New Manufacturing Projects

Tesuphils Inc., a Korean manufacturer of construction materials with a committed investment of US$6 million
Datian Subic Shoes Inc., a Taiwanese manufacturer of vulcanized shoes with a committed investment of US$10 million and 2,000 jobs

China's leading clean energy service provider JOVO Group Company Ltd. Guangdong will commence ship-to-ship (STS) operations in Subic to transfer liquefied natural gas. SBMA is expected to earn US$ 3.0 million yearly on anchorage fees for their tankers.
Eight shipping lines service Subic. Freight prices are decreasing.
2.4. Expansion Projects
SBMA has allotted Php952 million in its 2017 corporate budget for the Subic Bay International Airport restoration for commercial use with a passenger capacity of 2 million;
Expansion of New Container Terminals NCT 3 and 4 with an area of some 30 ha and costing PhP7 billion for an additional 600,000 TUE capacity;
Expansion of Bulk Cargo Port Facilities at an estimated cost of $120 million;
Diversion Road with a span of 17.3 km at an estimated cost of $232 million;
GAA funding is preferred but otherwise PPP;
Road widening of the existing Tipo Road to a four lane highway and construction of a new tunnel and bridge to accommodate two additional lanes costing Php2 billion to be undertaken by Manila North Tollways as part of its concession;
New Bypass Road Connecting SCTEX to Castllejos under PPP;
SBMA "SEAL" Reclamation Project similar to the Palms of Dubai;
Expansion of the freeport to LGUs that have horizontal areas and within the SBMA "domain". The LGUs are preparing their respective master plans with funding support from SBMA;
Development of the Redondo Peninsula with 3,000 ha of land is being offered to investors for greenfield projects a railroad such as solar farms, there is one of (150) and two (100 MW) being offered;
Senate Bill 1325 filed by Senator Gordon in the 17th Congress proposes to link three seaports and four airports (Mariveles, Subic, Clark, San Fernando, Manila, and Batangas) with a rail line;
Subic-Clark Cargo Railway Project to be undertaken by BCDA with China Harbour Engineering Corp. It may extend north to Poro Point and eventually south to Manila Port. AmCham raised the issue of triple handling of cargo via rail which might to be more expensive than trucking;
A revival of the Limay-Manila ferry boat service is being studied;
Yacht club will be opened to the public;
New World Group is exploring a hotel/casino/exhibition center project with space for 10,000 persons.
Action Point:
Tour of Hanjin Shipyard. SBMA offered to arrange a tour. (Note: Inform SBMA two weeks before proposed visit)