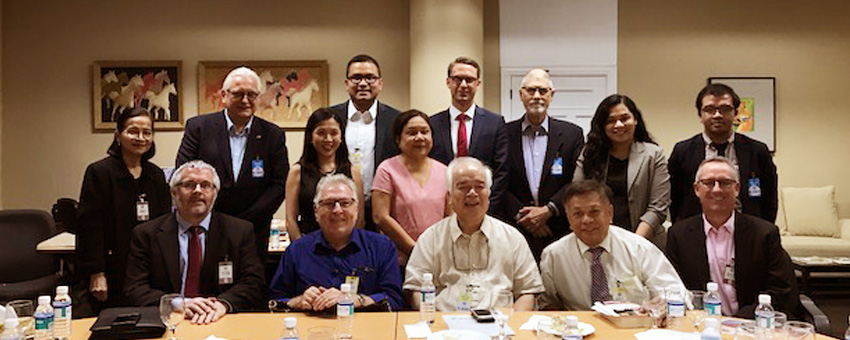 ECCP, together with the Joint Foreign Chambers, met with Senator Cynthia Villar who is chairing the Senate Chair for Committees on Agri-Food and Environment and Natural Resources.
The discussions focused on the following:
Plans and priorities of Senator Villar as Agri-Food and Environment & Natural Resources Committees

The Philippines is 3rd in terms of bringing waste to the ocean. In this context, the office of Sen. Villar endeavors to work with MNCs on retrieving plastic wastes.
Establishing agri-tourism and farm schools is high on the agenda of the Senator. Senator Villar hopes to start farm schools in every town of the Philippines, and has partnered with TESDA on this front.

JFC Legislative Priorities for Agriculture

Crop Insurance – Senator Villar is looking at rehabilitation insurance for MSMEs, instead of solely focusing on crop insurance.
Rice and Corn Trade Amendments - The JFC briefed the Senator on the Rice and/or Corn Industry Liberalization Act filed by Cong. Yap. The aforementioned bill seeks to liberalize the rice and corn industry primarily by repealing the 60 percent divestment requirement of foreign entities' foreign equity participation. The absence of such liberalization is believed to be a constraint to productive agricultural development, through foreign investments.

JFC Legislative Priorities for Environment and Natural Resources

Clean Air Act amendments – Sen. Villar expressed reservations on the use of incineration as this might pose serious risks on one's health.
Mining concerns: Senator Villar supports responsible mining. She takes note of the fact that several local communities might be solely relying on mining as source of livelihood; she believes responsible mining should thrive in those areas.
Hazardous waste disposal and waste-to-energy:

The Senator is a staunch advocate for waste recycling. This can provide livelihood and solve major waste problems in the country.