VENUE:
Boardroom, 3rd Floor Administration Building, University of Science and Technology of Southern Philippines (USTP)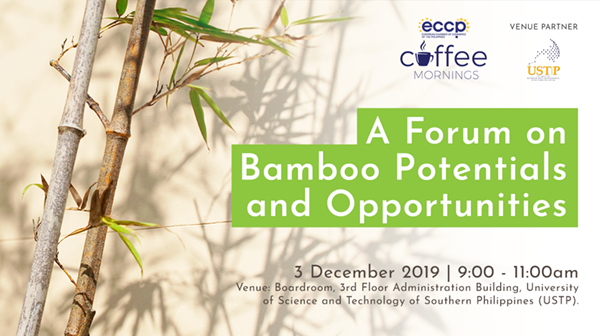 Bamboo is a type of grass which grows naturally almost everywhere, it has been a daily element but its utilization has not always been sustainable due to exploitation. This forum aims to bring the potential of Bamboo to a more elevated exposure – to protect natural resources and the environment, to ensure sustainable utilization, to promote new cultivation of bamboo for new industries in regions around the world, as well as promote traditional uses locally for community economic development.
ECCP CDO/NM's Business Council Chairman and Managing Director of SLERS Ms Mercedes P. Mejia, has been an advocate of Bamboo for quite some time. Upon leading the Business Council of ECCP here in the city and region, Bamboo was and will never be out of the picture in her agenda. She has been attending summits and congresses in the country and even internationally concerning Bamboo and its huge potential not just to the market but coming from the Value Chain itself and the livelihood it can impact to the marginalized and the society as a whole. This pocket learning session will convene Bamboo Enthusiasts to share ideas on their own initiatives in contribution to Bamboo sustainability.
---
GUEST SPEAKER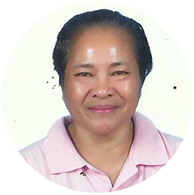 MYRNA SALUDARES DECIPULO
Our speaker's major field of specialization is in Forest Biological Sciences (Forest Ecology). Her research interest/commodity is in Bamboo, Rattan and other Non-timber Forest Resources, Indigenous/Lesser Known Tree Species, Reforestation and Agroforestry. Her previous R&D Projects before retirement were S&T Program for the Development of Sustainable Giant Bamboo Industry in Northern Mindanao, Survey of Bamboo Stands and Establishment of a Regional Database of Economically Important Bamboo Resources in Region 10, Determination of oil attributes of Selected Biofuel Species in Region 10, Germplasm collection, evaluation and characterization of the different species of bamboo. Her expertise led her to participate in international trainings such as the International training course on bamboo technology for developing countries held in China National Bamboo Research Center, Zhejiang, P.R.China, a training-study tour of essential-oil plantations and Manufacturing Industry in New South Wales, International training course on participation in extension: farmer-led approaches by the Australian Center for International Agricultural Research (ACIAR) and International Institute for Rural Reconstruction (IIRR), and the like.
Ms Myrna took up BS and MS in Forestry both in Central Mindanao University. She is born in South Cotabato Philippines and is currently residing in San Jose, Malaybalay City and is now a retired government employee.
---
REGISTRATION
ECCP Members

Free

Non-Members

Php 500
*price inclusive of event access and light snacks
For inquiries, contact Ms. Joanne Natindim at joanne.natindim@eccp.com or call/text +639567398824.
Limited seats available.
Registration will be on a first-come-first served basis.
Only PAID participants can have seats secured.
**Full payment is required prior to or on the day of the event.
Unpaid attendees will not be granted access to the event.
**No shows will be billed at full cost
both for members (free pass) and non-members.**
Cancellations should be made at least 48 hours before the event.
VENUE PARTNER