VENUE:
M Gallery hotel, Naypyitaw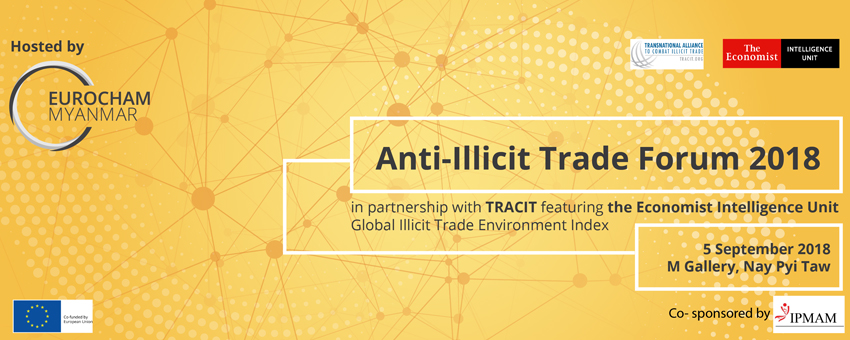 In 2018, a Global Illicit Trade Environment Index has been commissioned to the Economist Intelligence Unit by the Transnational Alliance to Combat Illicit Trade (TRACIT). Myanmar is one of 84 countries featured in the Index. The objective of this project is to improve the knowledge and understanding of the regulatory environment and economic circumstances that enable illicit trade and provide recommendations on priority areas.
Given the lack of data and information on Myanmar's illicit trade activities, EuroCham will host in partnership with TRACIT and the Economist Intelligence Unit, the Anti-Illicit Trade Forum 2018, as it recognizes how valuable information can be as a tool to raise awareness and mobilize action. This event on a highly topical issue, first of its kind in Myanmar, will take place in Nay Pyi Taw on Wednesday 5th of September 2018.
The objective of the event will be presenting the Index findings, as well as Eurocham's concerns as the EuroCham Myanmar Anti-illicit Trade Advocacy Group and industry representatives to relevant stakeholders and media.
The panels will include leading private sector representatives, high-level government officials, key experts from international organizations and academics, including TRACIT General director and UNODC's Country Director. An overview of the Index results, as well as in depth analysis and recommendations on specific issues will be presented by the different expert panels.
The Economist – Intelligence Unit
The Economist Intelligence Unit is the research and analysis division of the Economist group and the world leader in global business intelligence.
Created in 1946, this unit has 70 years' experience in helping businesses, financial firms and governments to understand how the world is changing and how that creates opportunities to be seized and risks to be managed.
To find out more about the Global Illicit Trade Environment Index 2018: http://illicittradeindex.eiu.com/
TRACIT
The Transnational Alliance to Combat Illicit Trade (TRACIT) is a private sector initiative to mitigate the economic and social damages of illicit trade by strengthening government enforcement mechanisms and integrating supply chain controls across industry sectors most impacted by illicit trade.
TRACIT draws from industry strengths and market experience to build habits of cooperation between business, government and the diverse group of countries that have limited capacities for regulatory enforcement. Connecting and mobilizing businesses across industries, sectors and national borders makes it possible to achieve results more effectively than any single actor can accomplish alone.