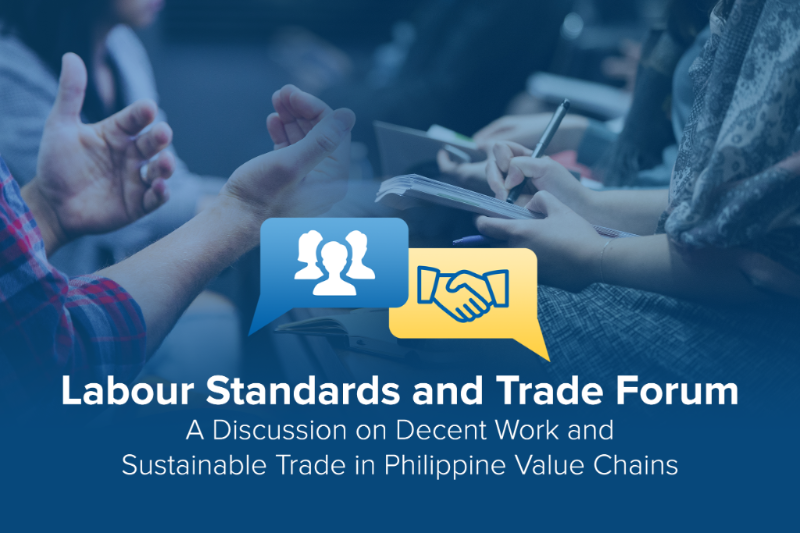 The EU-Philippine Business Network (EPBN) in partnership with the International Labour Organization (ILO) and the EU Delegation to the Philippines are organizing a forum on "Labour Standards and Trade: A Discussion on Decent Work and Sustainable Trade in Philippine Value Chains" from 1:00 PM - 5:00 PM on the 5th of June 2018.
With the complexity, diversity, and fragmented nature of global supply chains, challenges remain that continue to impede on decent work. As such, consumer, investor, and multinational corporations products must be produced with respect for international labour standards.
Similar to their Filipino counterparts, multinational companies are finding themselves in more open positions in which scrutiny and cross-examination are prevalent. How a company operates, with whom and under what conditions it operates are factors that increasingly form part of consumer awareness. Applying core labour standards also makes good business sense as it increases productivity and reduces the real costs of contracting workers.
Topics for discussion will include:
Best practice of implementation of core labour standards in global value chains in the Philippines;
Benefits of core labour standards for business and trade;
Relevance of integrated audits and reporting for company's long-term sustainability.
FORUM OBJECTIVES
Discuss the impact of core labour standards on business;
Promote sustainable trade and encourage compliance to core labour standards among value chains;
Promote best practice of core labour standards being integrated into business models for industry players and SMEs.
TARIFF
Member: Php 1,500
Non-Member & Walk-In: Php 1,900
PROGRAM
Time PM
Topic
Resource Speakers
1:00-1:30
Registration

 
1:30-1:50
Opening Session:

Welcome Remarks from the EU Delegation in Manila by  H.E Franz Jessen

Message of Support from the
International Labour Organization by ILO Country Office Director Khalid Hassan

Message of Support from
ECCP President Guenter Taus

Message of Support from the Philippine Government

 

H.E Franz Jessen (confirmed)


ILO Director Khalid Hassan (confirmed)



ECCP President Guenter Taus (confirmed)


1:50-2:30
 Panel Discussion: Core Labour Standards and Trade between the EU
and the Philippines
Moderator:  Atty. Arnie De Vera (confirmed)

Panelists:
H.E Franz Jessen (confirmed)
ECCP President Guenter Taus (confirmed)
ILO Director Khalid Hassan (confirmed)
DTI Senior Official/Representative (invited)
DOLE Senior Official/Representative (invited)

2:30-2:35
Presentation of Tripartite Manifesto of Commitment and Collective Effort to Sustain and Further Improvement in the Application of the Principles of Freedom
of Association and Collective Bargaining  
Panelists:
DOLE Senior Official/Representative (invited)
H.E. Franz Jessen, Head of Delegation, EU Delegation in Manila
Atty. Ranulfo Payos, Vice-President, ECOP
Labour Sector Representative (invited)
ECCP President Guenter Taus

2:35-2:40
Trade and Values: EU perspective and policies
Walter Van Hattum, EU Delegation (confirmed)
2:40-3:20
Panel Discussion:
"Role of International Labour Standards
in Trade: How does the implementation of core labour standards affect the cost of doing business?"
Moderator: Prof. Rene Ofreneo, PhD (confirmed)
Panelists:
Arthur Tan, Managing Director, Ayala Group (invited)
Alvin Naboya, Regional Consultant, LO/FTF (confirmed)
Rep. Kaka Bag-ao, Vice Chairperson of the Labor and Employment Committee, House of Representatives (invited)
Sen. Joel Villanueva, Chairperson of the Labour and Employment Committee, Senate of the Philippines (invited)  
Josua Mata, Secretary-General, SENTRO (invited)

3:20-3:40
Open Forum
 
3:40-4:20

Panel Discussion: Challenges in Encouraging Implementation of Core Labour Standards and the Way Forward

Moderator: Mr. Coco Alcuaz, MBC (invited)  
Panelists:
Asec. Alex Avila, Department of Labor and Employment (invited)
Atty. Ranulfo Payos, Vice-President, ECOP (confirmed)
Ms. Mailyn Borillo, President, OSM Maritime Services Inc.  (invited)
Tony Asper, Federation of Free Workers (confirmed)
Industry Association Representative (Sector and representative to be confirmed)

4:20-4:40
Open Forum
 
4:40-4:50
Synthesis, follow-up and closing