VENUE:
Solaire Resort Manila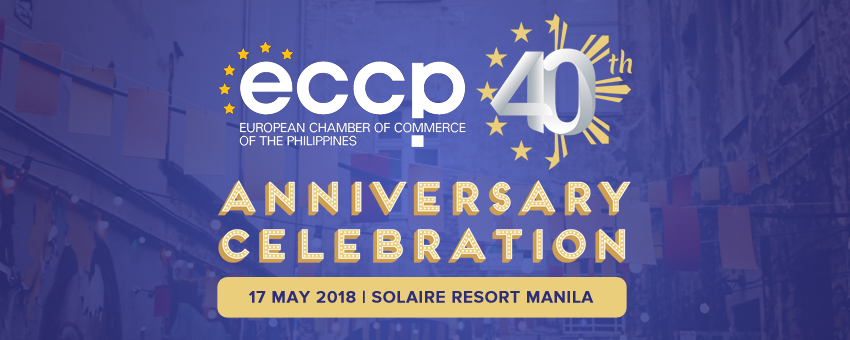 The European Chamber of Commerce of the Philippines is celebrating its 40th Anniversary Celebration. The unique anniversary celebration will be held on the 17th of May at the Solaire Resort Manila.
The ECCP 40th Anniversary Celebration will bring together over 300 leaders from the European Business Community, heads of different EU member state embassies, as well as key partners in the Philippine government and public sector in the spirit of EnhancingCompetitiveness and Creating Partnerships.
Join us for a different type of anniversary party as we bring together the best of the past, the present, and the future at this European Street Party-themed evening event.
This event is also a great opportunity to showcase your brand to the EU-Philippine Business Community. Click the link below to download the partnership kit for more information on how your company can be part of this milestone event.
For more information on partnership and sponsorship opportunities for this event,
contact Zyra Fastidio via +632 845 1324 or zyra.fastidio@eccp.com.
SPONSORS
Raffle Sponsor