VENUE:
Shangri-La at the Fort, Manila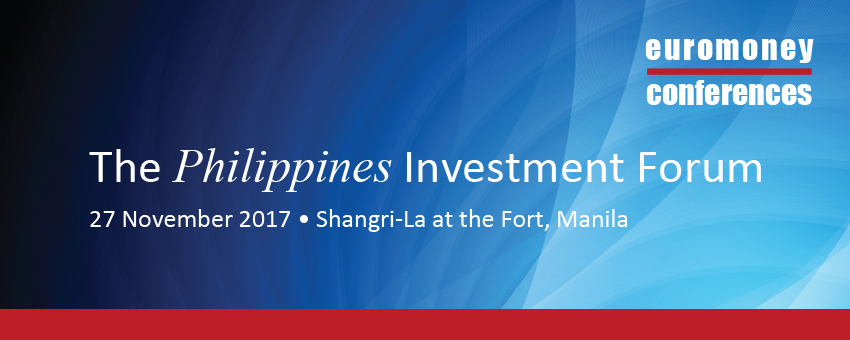 Confirmed Keynote Speakers
Hon Nestor Espenilla, Jr, Governor, Bangko Sentral ng Pilipinas
Hon Benjamin E Diokno, Secretary of Budget and Management, Republic of the Philippines 
There's no doubt that the Philippines is enjoying enviable growth rates by global and even emerging market standards under the Duterte administration. The questions are – how will the Philippines rebalance its economy to become more inclusive and investment-led? How will the Philippines' twin engine of remittances and BPO fare in an era of trade protectionism? Is there a public-private consensus over how we approach infrastructure development in the Philippines? And will the Philippines' geopolitical play backfire?
Meanwhile, another important change of guard just took place in the Philippines with the appointment of Hon Nestor Espenilla, Jr as the Governor of Bangko Sental ng Pilipinas in July 2017. How will the domestic banking sector and capital markets evolve under the new central bank leadership to support the country's growing and changing financing needs? And how quickly can the Philippines embrace digitalisation while maintaining the highest standards of financial governance?
Join us at the 6th edition of the Euromoney Philippines Investment Forum to be brought up-to-date on the state of the Philippine economy and to exchange perspectives with a high-level audience of the Philippines' onshore and offshore economic stakeholders.
Click here to download the latest agenda.
Topics will include:
The Economic Outlook for 2018
Updates on the Capital Markets
Infrastructure Funding
Trade and Industrial Development
The Agricultural Sector
Digital Transformation
Some of the speakers include: 
James Abbott, Partner, Allen & Overy
George Barcelon, President, Philippine Chamber of Commerce and Industry (PCCI) 
Roberto Batungbacal, Country Director, Philippines, The Dow Chemical
Richard Bolt, Country Director, Philippines, Asian Development Bank
Aloysius Colayco, Co-founder, Argosy Partners
Jose Ma Concepcion III, Presidential Adviser for Entrepreneurship and Chairman, ASEAN Business Advisory Council 
Michael Enriquez, CIO, Sun Life Financial Philippines

 

Aaron Gwak, Head of Capital Markets, ASEAN, Standard Chartered Bank
John Cary Ong, SVP, Head of Transaction Banking, UnionBank of the Philippines
Vivek Pathak, Regional Director, East Asia and the Pacific, International Finance Corporation
Charito B Plaza, Director General, Philippine Economic Zone Authority (PEZA)
Roel Refran, COO, Philippine Stock Exchange
Robert John Sobrepeña, Chairman and CEO, Fil-Estate Management and Chairman, Metro Global Holdings
Alexander Stathopoulos, Partner, Allen & Overy
Lawrence Velasco, Director, Project Development, Public-Private Partnership Center
Senior Representative, BDO Unibank 
Attendance is FREE for ECCP Members, but there are limited places available only to institutional investors, asset managers, private equity funds, government representatives, policymakers, regional SMEs and senior executives of large domestic & multinational corporations, and the media.  Euromoney reserves the right to decide eligibility for attendance.
To apply by email or for further information please contact us at rsvp@euromoneyasia.com