VENUE:
ECCP Conference Room, Makati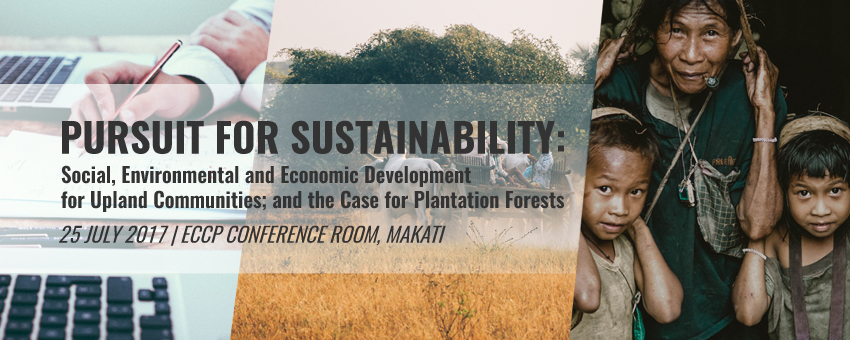 Following our discussions on the environment sector with DENR Secretary Roy Cimatu during the Joint Membership Luncheon last June, we continue to advocate for environmental sustainability in this month's Coffee Mornings session. The massive degradation of the country's natural forest cover has resulted in extensive soil erosion and floods. For decades now, at least 20%of the country's land resources are in low productive condition, denuded, and degraded. The country, for the last 20 years, has to depend heavily on timber imports to run its wood processing industries. Join ECCP in taking the lead in a growing environmentally conscious business community.
Session Objectives:
To establish a beneficial relationship between landowners and investors through promoting feasible and sustainable forest plantation ventures
To show that, with the right approaches, it is possible to recover our lost timber and forest resources, reduce massive soil erosion,and minimize destructive floodwaters, and hence improve the natural environment
Who Should Attend:
Investors, and development workers, and companies interested in learning how the country's timber and forest resources may be recovered.
ABOUT THE SPEAKER
Mr. Oscard Gendrano was formerly the Executive Forester from the Philippine Chamber of Wood Industries. He worked as a Forestry Specialist with Asian Development Bank. He graduated from the University of the Philippines, College of Forestry, and took his Master of Business Management in Asian Institute of Management, and his Master of Arts in Economics, UP School of Economics. He has 20 years experience in forest plantation management include training in the World Forestry Institute, Hamburg, Germany and Training in Community Forestry, World Bank, Washington DC.
Tariff:
ECCP Members: Free
*One representative only. Php 500/each for additional head Non-Members: Php 800
Walk -ins: Php 1000
* Maximum of 25 slots on a first come first served basis. Snacks will be served. 
Registration closes on Friday 21 July 2017, or as soon as slots are filled
For confirmations and more information, please contact
Ms. Dei Cimatu of ECCP at 845 1324
or email dei.cimatu@eccp.com