VENUE:
Marriott Manila Hotel, Philippines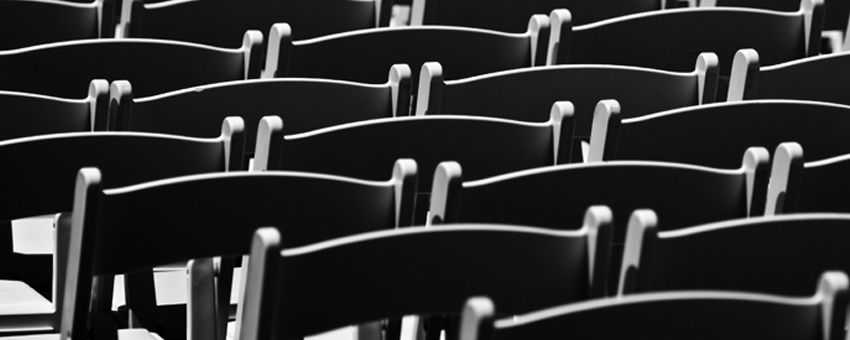 The WATER CHALLENGE FORUM highlights the challenges that the Philippines face as far as managing its water resources is concerned. It will bring together in one forum water policymakers, water suppliers and distributors, water technology and service providers, international and local business organizations, academe and other water stakeholders to exchange information, discuss the priorities of the water sector and provide recommendations on how to address the water challenges.

The Forum will also include a WATER TECHNOLOGY SHOW that will exhibit companies providing the latest water technology and solutions as well as showcase various water initiatives and programs existing in the country.

FORUM OBJECTIVES
PROMOTE a better understanding of the importance of water to the environmental and economic future of the Philippines;
INCREASE the awareness of participants of the water situation and challenges faced by the country and the need to take action to address these challenges;
ENGAGE the public and private sectors in an active cooperation to promote better water stewardship by promoting technologies, techniques, practices and policies that are geared towards a wider water access and greater water efficiency;
SHOWCASE the latest water technologies and solutions that can help overcome the problems being encountered in the water sector; and
LAUNCH the Water Initiatives for a Sustainable Economy (WISE) Program - a program aimed at bringing together all stakeholders in the water sector to cooperate more closely in the design and implementation of water initiatives.
WHO SHOULD ATTEND
C-Level Executives
Directors and Heads of Facilities, Engineering and Environment
Operations Managers
Building Administration Managers
Government Officials engaged in Water Policy and Infrastructure Development
Heads of Local Government Units
Architects & Contractors
Engineers
Water Service and Wastewater Treatment companies
Water Solutions Providers (Technology & Services)
Academe
Non-Government Organizations
International Organizations
Real Estate Developers and Property Managerment Firms
Property Owners - Buildings, Eco-Zones, Business Districts, Subdivisions, etc.
Abundant water resources but facing water shortages due to poor and inadequate water infrastructure.
The Philippines is far from "Water Secure" and has among the highest rates of waterrelated fatalities, together with Bangladesh, Nepal, Tajikistan and Vanuatu (ADB).
455 municipalities nationwide are waterless areas, with less than 50% of households having access to safe water (NAPC).
1,997 for every 100,000 population - the incidence rate for waterborne diseases in the Philippines (DOH).
53 of 444 operational water districts in the country are able to give more than 50% water service coverage. Municipalities deemed waterless are those with less than 50% water service coverage(DILG).
MANILA PROGRAM HIGHLIGHTS
Time
Topic
Speaker
8:00AM - 8:30AM
Registration
 
8:30AM - 9:00AM
Ribbon Cutting and Opening of Technology Showcase
 
9:00AM - 9:15AM
Opening Remarks: "The Water Challenge"
Mr. Michael Raeuber
President
European Chamber of Commerce of the Philippines
9:15AM - 9:20AM
Introduction of Keynote Speaker
9:20AM - 9:40AM
Keynote Address:
Managing the Competing Uses of Water: The National Water Management Master plan
Hon. Rogelio Singson (tbc)
Secretary
Department of Public Works and Highways
9:40AM - 10:00AM
Wider Water Access and Greater Water Efficiency
Rep. Rodolfo Albano III
Representative
1st District of Isabela
House of Representatives, Philippines
10:00AM - 10:20AM
Open Forum and Morning Break
Plenary Session 1: The Water Challenges in the Global and Local Scenario
10:20AM - 10:40AM
The Asian Water Development Outlook
Ms. Stella Tansengco-Schapero
Senior Finance Specialist, SERD
Asian Development Bank
10:40AM - 11:00AM
Managing the Nation's Water Resources: Policies and Frameworks
Atty. Elenito M. Bagalihog
Executive Director
National Water Resources Board
11:00AM - 11:20AM
The Challenges of Water Distribution and Wastewater Treatment
Mr. Francisco Arellano
Senior Assistant Vice President
Maynilad Water Services, Inc.
11:20AM - 11:30AM
OpenForum
Plenary Session 2: Water Management in Cities
11:30AM - 11:50 AM
Sustainability Remote Community Water
Mr. Rick Holland
Managing Director
Grundfos Pumps (Philippines), Inc
11:50 AM - 12:10PM
Challenges of Floods and Innovation Solutions
Mr. Ed Singzon
Water Utililty- Sales Engineer
Grundfos Pumps (Philippines), Inc.
12:10PM - 12:30PM
Total Water Management: An Integrated Design Approach to Maximizing Water Efficiency
Mr. Matthew Bamm
Senior Engineer-Water
ARUP Philippines
12:30PM - 12:40PM
Open forum
 
12:40PM - 1:40PM
Lunch Break
 
Plenary Session 3: Sustainable Water Technologies, Best Practices and Solutions
1:40PM - 2:00PM
The Project Agos
Ms. Cecile Alcantara (tbc)
President
Coca-Cola Foundation Philippines
2:00PM - 2:15PM
Project Ultra: Sustainable Water Use in the Food Sector
Mr. Alan Frias
General Manager
Mondelez Philippines
2:15PM - 2:30PM
Meeting Industrial Water Demands with New Technologies
Mr. Wilfredo Elumba
Country Manager
GE Water and Process Technologies
2:30PM - 2:50PM
Open Forum and Afternoon Break
Plenary Session 4: Becoming Water Wise
2:50PM - 3:20PM
Water Management Design & Initiative
Arch't Joy Martinez Onozawa
Architect, Urban Planner, Environmentalist
Environmental Designs, Inc.
3:20PM - 3:40PM
The WISE Program: A Proactive Response to Water Challenges
Mr. Gerry D.Constantino
Vice-President for Operations
European Chamber of Commerce of the Philippines
3:45PM - 4:10PM
Open Forum
4:10PM - 4:20PM
Synthesis of Plenary Session 3 and overall
4:20PM - 4:30PM
Closing Remarks and Signing of the WISE Pledge
Master of Ceremonies:
Mr. Martial G. Beck
Vice-President and General Manager
European Chamber of Commerce of the Philippines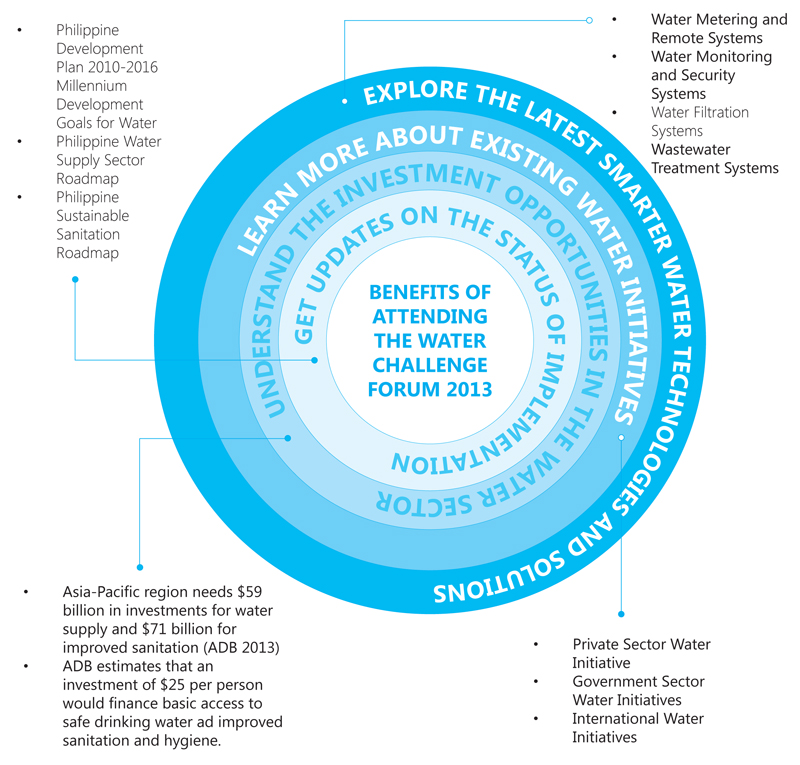 WATER SITUATION ASSESSMENT
"The Philippines comes out at level two out of 5 so that means there's still quite some way to go. The scores in the 5 key dimensions are two for household water security, 4 for economic water security, doing strongly there, one for urban water security, which means treatment of wastewater and management and reduction of floods and the damages from floods. That is an area of serious concern to increase water security for action, as mentioned, and of course the Philippines is engaged in that. Environment water security score is 2 and the resilience to water disasters is also 2."

~ Wouter Lincklaen Arriens, ADB
THE WATER SCENARIO 2025
"Freshwater needs will grow by 20% in mature economies and by 50% in new economies by 2025.

As populations grow and cities expand, it is essential to prevent flooding and provide clean and affordable water for consumption.

Cities are where water is not always available but where people need it. Cities need to make their water smarter, more efficient, safe and available."

~ Schneider Electric
DIFFICULTIES IN MEETING WATER NEEDS
"The Philippines is endowed with abundant water resources, but is currently confronted with difficulties in meeting its water needs, expansion of capacity and connecting poor households to the water supply system. Rapid population growth, economic development, urbanization, and industrialization have taken their toll on the country's water services and resource base.

The problem, moreover, extends to other quality of life dimensions: deficiencies in water resource management, water supply and sanitation services, solid waste and wastewater management impact on water quality and people's health."

~ Philippine Water Supply Sector Roadmap
PARTICIPATION FEES
MANILA
ECCP Members / Exhibitors / Sponsors / Government / Academe / Students (w/ID) = PhP 3,500
Non-Members = PhP 3,800