In your new role as a new or emerging leader, public speaking is a critical tool in: managing your team; coordinating with other teams and leaders; providing presentations and conducting and directing meetings; and, even hosting events and corporate programs. This course will provide you with the fundamental principles and guidelines on how to best improve your verbal communications against the backdrop of today's technology-driven business and the power of the customer.
Learning Objectives
Illustrates the need to employ the basic principles of verbal communications within today's fast-paced business and social environments.
Provides the fundamentals on how to adapt public speaking within the context of customer service.
Explains how to incorporate continual improvement in verbal communications for professional development.
Methodologies: Presentations and lectures with discussions of case studies; Pre-course assignment (to be done one week before the actual course); and Workshop on application of public speaking guidelines.
COURSE OUTLINE
DAY 1
Introduction

Treating the Cause, Not the Symptoms
Today's Business and Social Environment
The P-CORE2 Paradigm
Plenary Activity
The Pitfalls in Verbal Communications

C2 - Confidence and Context

Your Personality is Your Foundation
Your Biology Contains Your Tools
Your Mind and Your Heart

O2 - Observation and Organization

Treat Others as You Would Treat Yourself
Experience is a Key Tool in Learning
Grammar, Syntax, and Structure
DAY 2
Activity (Teams)
R2 - Research and Reception

The Clarity of Your Topic
Your Preparation and Unforeseen Matters
Guiding Your Audience

E2 - Enthusiasm and Enlightenment

The Influences on Your Personality
The Definition of a Public Speaker
What Continual Improvement Should Mean to You

Workshop

Opportunity for Improvement
Workshop Delivery and Feedback

Open Discussions of Concerns
P2 - Practice

The Power of 3 – The Keys to Public Speaking
Positioning Yourself in a Fast-Paced World

Closing/End of Training Session
WORKSHOP FACILITATOR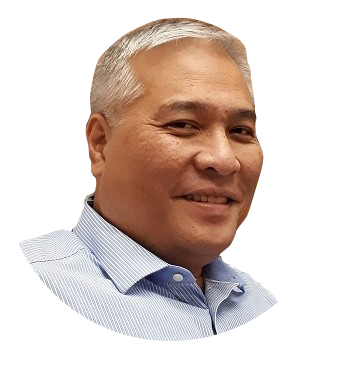 Benjamin M. Los Baños
Essential People Skills Trainer/Consultant
Benjie Los Baños has more than 30 years of experience in marketing communications, corporate communications, corporate relations, crisis communications, marketing services support, and sales process support. He is a highly competent trainer in the fields of public speaking, marketing communication, and leadership with advanced skills in: feature and publicity writing; speech writing; advertising ideation and copywriting; audio-visual script writing; events planning, execution, and hosting. Additionally, he is an Advanced Communicator in Toastmasters International where he is a current member of Achievers Toastmasters Club 9398-75; and, has had previous roles as a charter member, club president, vice president, and area governor.
For more than a decade, Benjie served concurrent roles in a multinational company for corporate marketing, corporate sustainability, business continuity, and essential people skills training. Previous to this, he has been involved in various industries.
LEARNING INVESTMENT
PHP 14,000
ECCP Members
PHP 16,000
Non-Members
(includes coffee breaks, lunches, seminar materials and certificate of attendance)
Group Discount: 5% Discount for groups of 3 and above
No shows will be billed at full cost. Cancellations should be made at least 48 hours/two working days before the event.
Participants from outside Manila, requiring airfare and hotel bookings, should coordinate with ECCP for final confirmation of course schedule before booking. The ECCP shall not be responsible for charges incurred for changes in booking or flights.
For confirmations and more information, please contact
Ms. Nichole Raynera of ECCP at (02) 8845 1324 or email nichole.raynera@eccp.com