2019 marks the third year of the existence of the National Privacy Commission (NPC) since its constitution last March 2016 as the main implementing agency of Republic Act (RA) No. 10173 otherwise known as the Data Privacy Act (DPA) of 2012. Whereas the past years (2017-2018) saw the NPC and Data Privacy Practitioners going around the country to raise the level of awareness of government agencies, private companies and even self-practicing professionals as well as those handling personal information, year 2019 is now more of addressing the compliance aspect of all these companies, agencies and self-practicing professionals known under the law as Personal Information Controllers (PICs) and Personal Information Processors (PIPs).
In accordance with the five (5) pillars of compliance put in place by NPC, to wit:
Commit to Comply – Appoint a Data Protection Officer (DPO)
Know your Risks – Conduct a Privacy Impact Assessment (PIA)
Be Accountable – Write your Privacy Management Program (PMP) and Privacy Manual
Demonstrate your Compliance – Implement Privacy and Data Protection Measures
Be prepared for Breach – Regularly Exercise your Breach Reporting Procedure
All PICs and PIPs should now be in the process of conducting their Privacy Impact Assessments (PIAs) and writing their respective Privacy Management Programs (PMPs) and Privacy Manuals (PMs).
But how do these PICs and PIPs ensure that what they are doing are in accordance with the requirements set out by the NPC?
Learn everything you need to know about complying with the DPA of 2012 on this two-day seminar-workshop.
PROGRAM OUTLINE
DAY 1
Discussion on the Data Privacy Compliance Framework
Discussion on the Privacy Impact Assessment (NPC Advisory 2017-03)
Case Study on Vaccination Program Case
Workshop on their own Process Flow (at least one Processing System)
Day 1 will start with knowing the 26-point Data Accountability and Compliance Framework created by the NPC. This will be followed by a discussion on the importance of conducting the PIA as contained under NPC Advisory 2017-03.
In the afternoon of Day 1, there will be a discussion on how to conduct a PIA (Vaccination Case) which will be followed by a workshop among all participants where they will be doing a PIA for at least one of their Data Processing System (DPS).
DAY 2
Discussion on the Creation of Privacy Management Program (PMP)
Discussion on the Data Sharing Agreement (DSA) Requirement
Discussion on the Writing of the Privacy Manual (PM)
Writing of own Privacy Policy and Privacy Notice
Day 2 will have discussions on how to write the PMP and the requirement for the Data Sharing Agreement (DSA) which is another major requirement for companies and agencies before they can share personal information.
fternoon of Day 2 will discuss how to write a PM and its importance and finally there will be a workshop on how to compose their respective Privacy Notices and Privacy Policies. A privacy notice and privacy policy are two (2) different types of privacy documents that also manifest compliance on the part of PICs and PIPs unlike some websites which mention that these two are one and the same.
RESOURCE SPEAKER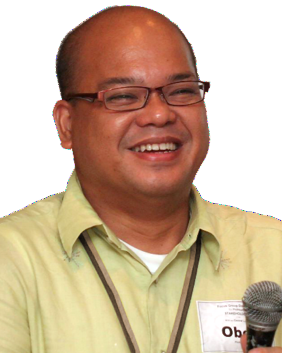 Mr. Robert S. Paguia, LLB, MPM is a former Executive Assistant III Deputy Privacy Commissioner (DPC) Ivy D. Patdu, MD, JD, of the National Privacy Commission. He also served as one of the NPC's Primary Resource Persons on the DPA of 2012. In addition to his practice, he also serves as a resident lecturer of the UP Law Center for their Mandatory Continuing Legal Education (MCLE) Program on the DPA of 2012. Robert finished his Undergraduate degree in Bachelor of Arts in Philosophy and Letters and a Degree in Bachelor of Laws at San Beda College and San Sebastian College – Recoletos respectively. He also earned his Master's Degree in Public Management at the Ateneo School of Government in 2016. In addition, Robert is a recipient of Certificate of Successful Completion for International Training Programme on Managing Development and Social Security Measures at the V.V. Giri National Labour Institute at Noida, India in December 2011.
LEARNING INVESTMENT
PHP 17,500
ECCP Members
PHP 19,000
Non-Members
(includes coffee breaks, lunches, seminar materials and certificate of attendance)
Group Discount: 5% Discount for groups of 3 and above
No shows will be billed at full cost. Cancellations should be made at least 48 hours/two working days before the event.
Participants from outside Manila, requiring airfare and hotel bookings, should coordinate with ECCP for final confirmation of course schedule before booking. The ECCP shall not be responsible for charges incurred for changes in booking or flights.
For confirmations and more information, please contact
Ms. Nichole Raynera of ECCP at 845 1324 or email nichole.raynera@eccp.com