The Laguna Lake Expressway Dike PPP Project
Flooding and mobility within Laguna Lake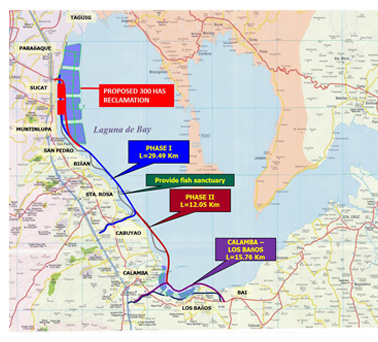 Development Authority jurisdiction, are two recurring concerns that are being addressed by this USD2.73 Billion PPP project, the largest ever proposed by the Philippine Government to the private sector.
The project will provide a high standard highway with a dike, from Taguig through the towns of Calamba to the Los Banos-Bay boundary in Laguna, in order to ease traffic flow and mitigate flooding in the western coastal communities along the lake.
The private partner will finance, design, construct, operate, and maintain the 47-kilometer flood control dike with a six (6) lane expressway toll road on top. It will also include the construction of interchanges, bridges, floodgates, and pumps, from Taguig to Los Banos. The private proponent will also undertake the reclamation of 700 hectares located west of and abutting the expressway-dike and separated from the shoreline by a 100-150-meter channel, in Taguig and Muntinlupa.
Forum Objectives
Provide a venue for Secretary Neric Acosta, LLDA Chairman, to share his vision of Laguna Lake development and present significant details of the Expressway Dike project to the members of ECCP and other national chambers including the financial scheme proposed to the bidders as well as the technical components of the project through the Technical Working Group and involved agencies and official bodies (DPWH, PPP office, etc)
Answer questions from technology providers, public and the media
Facilitate contacts and networking between the different parties interested by the project
Who Should Attend
Infrastructures investors (Highway operators, Real estate developers, Retailers, Hotel operators, etc.)
Engineering specialists (Civil Contractors, Civil Engineering, Dredging specialists, Consultants)
Equipment manufacturers (Flood control, Pumps, Highway, Environment, etc.)
Finance sector
Business services providers
Business owners located in the area
For confirmations and more information, please contact Monica Rivera of ECCP at 845 1324 or monica.rivera@eccp.com