VENUE:
Shangri-la at the Fort, BGC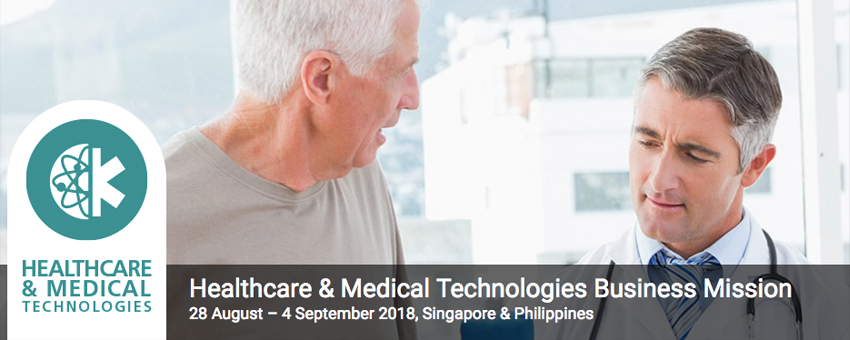 The business mission is organized under the European Union (EU) Business Avenues in South East Asia programme and offers FREE business matching opportunities with visiting European Union (EU) based healthcare and medical technologies companies looking for business partners in the Philippines.
The Philippines is witnessing increasingly more investment in public-private partnerships (PPPs) for major hospital infrastructure projects. At the same time the digital landscape is changing fast with the public and private sector pushing for the digitization of healthcare information and accessibility for the benefit of the population.
The Business Mission is composed of 49 companies from 15 EU Member States, namely, Austria, Belgium, Czech Republic, Denmark, Finland, France, Germany, Greece, Italy, Netherlands, Poland, Slovenia, Spain, Sweden, United Kingdom. Business matching opportunities are offered in the following areas:
Aesthetic//Cosmetic/Dental Equipment & Supplies
Assistive Technologies (e.g. mobility aids, lifting solutions, stairlift, floor patient lifts, software)
Biopsy/Anesthesia Needles
Biotechnology for Health – preventive genetic tests, nutrigenetic test, cancer screen tests
Clinical Software for Dentistry
Cryotheraphy Solutions
Dental Products
Electromedical Devices for instrumental physiotherapy / Magnetotherapy
High Quality Vitro Diagnostics
Hospital Community and Security Systems
Medical Devices/Equipment/Furniture
Medical Imaging Systems/Radiotherapy
Medical Instruments and Tools
Medical Neurological Rehabilitation
Medical/Pharma Supplies & Disposables
Medical Waste Management
Neurophysiological diagnostics
Optical Diagnostic Tool (Oxygen to See)
Patient Temperature Management Systems
Pad Printing Solutions
Photonics Technology
Point of Care Molecular Diagnostic Device
Raw materials for In Vitro Diagnostics Manufacturers
Rehab and Pain Equipment
Remote Health Monitoring
Robotic Assistance Medical Systems
Spinal Implants
Smart Microscope and Scanner
Telemedicine
Wearable Healthcare Technology
Click here to view the full list and profiles of visiting European companies »
FREE BUSINESS MATCHING
Should you be interested to meet any of these companies, please follow the following procedures:
Register as a trade visitor to visit exhibitions.
Follow this link to register. If you have any difficulties, please contact the Business Registration team at info@eubusinessavenues.com
Indicate interest for business matching
Indicate your interest by emailing businessmatching_ph@businessavenues.eu with your name, name of your company and contact number as well as the EU Companies you want to meet. The business matching team will be in touch to assist you in setting up of meetings with relevant EU companies. Please copy ECCP your email by including constantino@eccp.com and archie.diaz@eccp.com in your mail recipients.
Please register as soon as possible as ECCP will be sending a special invite to the first 40 locally based companies that will set up business meetings with the EU companies to the opening and market briefing session for the business matching event on 3 September 2018, 9-11 am at the Shangri-La at the Fort, BGC.