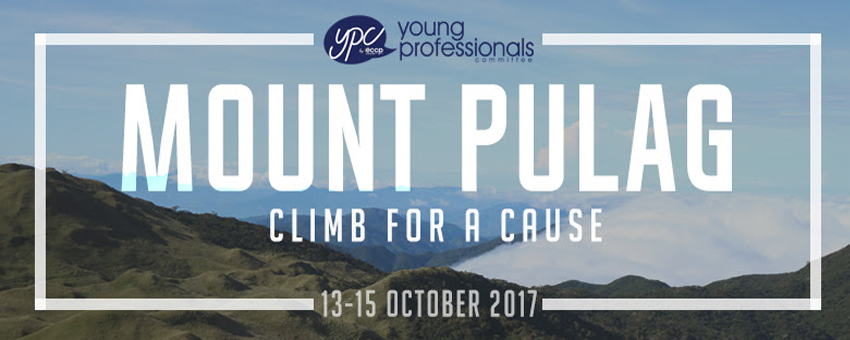 Conquer. Engage. Volunteer.
Due to concerns about our safety during the climb, the team along with our community at Mount Pulag have decided to move the climb to 13 - 15 October 2017.
Be part of this advocacy, immersion and outreach in Kabayan, Benguet and trek to the summit to catch the famed sunrise with fellow young professionals!
ITINERARY
MEET UP
October 13, 2017 - Friday
10:00 PM
Depart from Makati to Baguio City
October 14, 2017 - Saturday
04:30 AM
Depart from Baguio
09:00 AM
Arrival at Visitor's Center, registration and orientation
10:00AM
Departure from PAO bound for Ranger Station
11:00 AM
Arrival at Baban's Homestay
12:00 PM
Lunch
01: 30 PM
Community immersion & turnover of donations at Adaoy National Highschool
04:00 PM
Socials and community walk
06:00 PM
Dinner at Baban's Homestay
October 15, 2017 - Sunday
01:00 AM
Start of trek to summit for sunrise (Ambangeg Trail)
05:45 AM
Arrival at the summit
07:00 AM
Start of descent from summit
11:00 AM
Arrival at Baban's Homestay for Lunch
01:00 PM
Closing Program with the LGU, Kabayan Community and Children
12:00 PM
Depart for Baguio City
04:00 PM
ETA Baguio City
11:00 PM
ETA Makati City
PACKAGE FEE:
PHP 4,500
INCLUSIONS:
Roundtrip transportation Manila - Baguio - Pulag
Overnight Accommodations at Baban's Homestay
Day 1 Lunch & Dinner + Day 2 Breakfast & Lunch
Side trip to Ambuclao Dam
Local guide, cultural, and environmental fees
Climb Certificate from DENR Mt. Pulag
Souvenir t-shirt and potted plant
Community outreach and immersion in Kabayan, Benguet
BOOKING INSTRUCTIONS:
Complete the Registration Form
Deposit via BDO Account Name: European Chamber of Commerce of the Philippines. Account Number: 005358-004671.
Or Deposit via BPI Account Name: Mari Antonette Mendoza. Account Number: 0990-0092-87.
Email deposit slip or transfer screenshot to ypc@eccp.com with subject "MT PULAG REGISTRATION - "
Confirmation Email will be sent within 24 hours.
Priority given to YPC Members. Registration AND payment is required to confirm your slot! Deadline for confirmation is 6 October 2017 and unpaid slots will be released to those on waitlist.
CALL FOR DONATIONS:
To maximize our support to the community, we are looking for the following donations or its cash equivalent:
500 sets of school supplies (Php 300 per set)
700 thermos (Php 200 per piece)
700 lunchboxes (Php 200 per piece)
To avoid any issues, especially on fairness, should you wish to make an item donation, please note that it must be for the full number of pieces specified and should be of the same brand/type/size/specs. For cash amounts, any amount would be most appreciated. For donations, kindly contact Ms. Katt Baligod at ypc@eccp.com or via +632 832 8121.
REMINDERS:
Be sure to wear at least three layers of clothes and a jacket appropriate for temperatures that can swing from 2-10 degrees Celsius.
Mt. Pulag may have unpredictable weather, pack a raincoat or umbrella.
Best to wear clothes that are waterproof and good at keeping you warm. Pair with tested trekking shoes and gloves/bonnet/head gear.
Bring personal toiletries, first aid kit, tissue paper, reusable water bottles, trail foods (e.g. chocolates, jelly ace etc.).
Extra plastic bags/trash bags and a flashlight/headlamp can also come in handy
Excited? Let your friends know you're going on the Event Page!
For more information on the YPC Mt. Pulag Climb, reply to this e-mail or write to ypc@eccp.com.