DATE(s): July 18, 2017 & July 19, 2017
VENUE:
EITSC Training Hub, 19F Philippine AxaLife Center, Sen Gil Puyat cor Tindalo St. Makati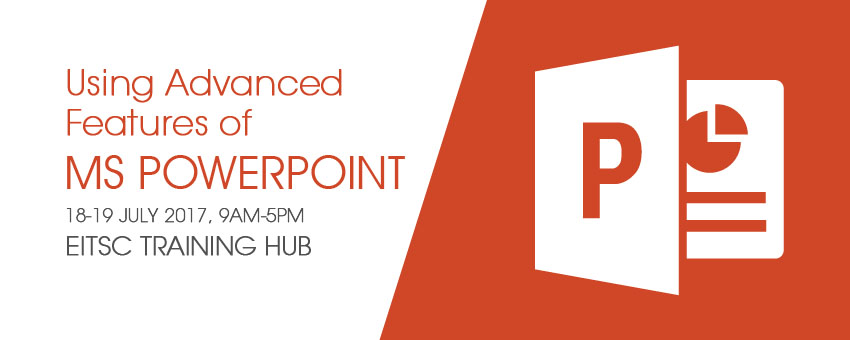 Microsoft PowerPoint is a powerful presentation software developed by Microsoft. It is a standard component of the company's Microsoft Office suite software, and is bundled together with Word, Excel and other office productivity tools. The program uses slides to convey information rich in multimedia.
Workshop Objectives
At the end of the course, participants should be able to:
Customize Color Schemes
Add Animation effects
Use the Slide, Notes and Handout Masters
Create, Edit and Import Charts
Create and Edit Tables
Manage Hyperlinks
Create Custom Shows
Export Outlines & Presentation Slides to Word
Course Content
Creating Basic Charts
Using Tables
Customizing Presentations
Editing Presentation Masters
Editing Notes and Handout Masters
AApplying Special Effects
Setting Up the Slide Show
Setting Automatic Slide Trimmings
Setting Up a Continuous Loop
Hiding a Slide
Rehearsing Slide Transition Timings
Expanding a Slide Show
Presenting to a Wider Audience
Using SmartArt
Inserting a Photo Album
Exporting Outlines and Slides
Tips and Techniques in Creating Effective Power Point Presentations
Prerequisites
Participants should already be competent in:
Creating PowerPoint presentations
Formatting and editing slide text
**a more comprehensive outline is available upon request
Learning Investment:
Php 11,000 +12% vat
For confirmations and more information, please contact
Ms. Jasmin Runez of ECCP at 845 1324
or email jrunez@eccp.com