DATE(s): March 22, 2018
TIME: Starts at 08:00 am
VENUE:
Solaire Resort Hotel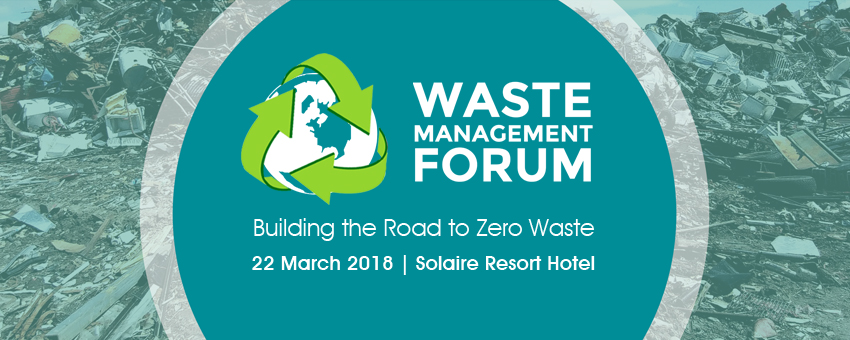 The Waste Management Forum endeavors to demonstrate how a systematic circular economy based approach can promote sustainable growth. It aims to promote and mainstream a regenerative and restorative approach to managing resources/wastes in order to promote a culture that supports sustainable waste management practices.
The Forum also provides a platform for government, business, civil society, development partners and other thought leaders to discuss waste management issues and challenges as well as share solutions and best practices that lead to effective waste management policies, strategies and programs. It also aims to build partnerships among the key stakeholders in developing and implementing solutions.
OBJECTIVES
To discuss the issues and challenges that the Philippines is facing with regard to the growing waste problem in the country and provide an update on how all sectors of society are addressing this problem;
To present a regenerative and restorative approach to managing wastes within the context of a circular economy concept in order to address waste management issues in an environmentally sound and economically viable manner;
To convene key stakeholders from government (both national and local), commercial and industrial sectors as well as civil society groups to exchange ideas and best practices on how to improve waste management policies and practices in the country as well as collaborate to ensure environmental protection and social responsibility; and
To evaluate and enhance the existing waste management framework as well as facilitate closer collaborations among stakeholders especially at the local level.
TARGET AUDIENCE
The forum is seeking individuals or group of individuals to participate notably in the fields of:
National & Local Government Heads and Representatives
Top Management (CEO's, CFOs, Managing Directors, General Managers)
Technical Directors and Heads of Facilities
Professional Groups (Pharmaceuticals, Urban Planners, others)
Engineering & Environment
Architects & Contractors
Waste Solutions Companies
Academe
Non-Government Organization
Real Estate Developers
Property Owners – Buildings, Business Districts, Subdivisions, etc.
Economic Zones
Finance Institutions
International Organization
DELEGATES
Registration fees for interested participants are:
3,500 PHP - ECCP Member
3,900 PHP - Non- ECCP Member
2,000 PHP - LGU & Academe
4,000 PHP - Walk-ins
Download Event Brief
For more information about the registration process, Please contact Ms. Raiza Caybot (02) 845-1324 or email at
raiza.caybot@eccp.com
SPONSORSHIP OPPORTUNITIES
We have developed various packages that offer benefits to your company. However, we remain open to your ideas on how we can make the package even better to meet your requirements.
For more information about sponsorship opportunities, please contact Ms. Kamyr Catapang via (02) 845-1324 or email at kamyr.catapang@eccp.com.
Download Sponsorship Packages Here