VENUE:
SM AURA, SMX Convention Center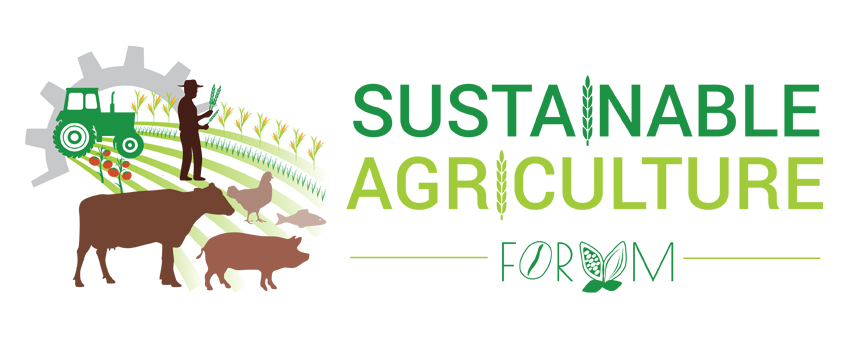 The European Chamber of Commerce of the Philippines remains concerned about the state of the agricultural sector. It continues to be unfortunate that farmers and fisher folks, whom we depend upon to supply society's food supply, have remained marginalized. It is worthy to note that the Department of Agriculture has allotted P 5B for poverty alleviation over the 6 year administration of President Duterte.
The ECCP continues to support effective policies, programs and trade agreements to induce greater investments into the agricultural sector, which is an essential condition for inclusive growth. In 2016, the country continued to experience more typhoons and calamities resulting to significant agricultural damage. The private sector must continue to invest in methods and solutions that will effectively address the impact of climate change.
The Sustainable Agriculture Forum 2017 will continue to assist in overcoming the threats of climate change and managing the changes that will be brought about by the ASEAN Integration. The event continues to address food security concerns, recommend strategies to achieve sustainable agriculture and inclusive growth. The ECCP believes that better and more effective solutions can be achieved if the Public and Private sectors establish a collaborative partnership.
The Forum will bring together all of the relevant agriculture stakeholders to discuss plans and programs as well as present innovative solutions. Furthermore, the forum will strengthen the importance of investing in research and development to achieve quality and greater productivity. It is necessary that both sectors are encouraged to invest into agriculture in order to achieve self-sufficiency and economic competitiveness.
The ECCP recognizes the need to empower farmers and fisherfolk through a more organized structure such as a cooperative. The private sector should be encouraged to continue to develop innovative technologies and seeds as well as efficient and effective value supply chains that are expected to improve productivity and economies of scale. Through innovations in agriculture, it is expected for agricultural output to be natural disaster resilient.
The event intends to support the current administration in developing plans and programs. Furthermore, the event will provide meaningful and fruitful discussions with the new administration concerning improved policy measures and programs, recommend innovative products and solutions that would enhance productivity, insulate the agricultural sector from possible market shocks resulting from the ASEAN integration, and empower farmers and fishermen. The event intends to identify areas of a collaborative partnership between the private and public sectors in solving food security concerns and consequently achieve inclusive growth.
EVENT AGENDA
07:30 AM
REGISTRATION
08:20 AM
 Call to Order
 ECCP
08:30 AM
 Welcome Remarks


 Guenter Taus
President
ECCP
 
 Introduction of Keynote Speaker


 Florian Gottein
Executive Director
ECCP
 

 Keynote: Achievements and plans towards self-  sufficiency and  agricultural competitiveness


 Hon. Emmanuel Piñol
Secretary
Department of Agriculture
09:00 AM

SESSION 1: Policy Reforms Aimed to Achieve Self-    sufficiency and preparedness for the ASEAN  Integration

 Moderator: Mr. Reyner Aaron  Villasenor, Head of Corporate  Affairs,Syngenta
 

Legislative Agenda to Further Enhance Agricultural  Productivity


 Cong. Jose Panganiban, Jr. CPA,  LLB
Chair, House Committee on  Agriculture and  Food (Invited)
 

G2P Rice Importation Scheme Towards a More  Competitive and  Transparent Governance

 Leoncio Evasco Jr.
Cabinet Secretary and Chairman of the  National Food Authority (Invited)
 

PRDP: Public-Private Partnership Towards Inclusive  Growth


 Engr. Ariel Cayanan
Operations and Agri-Fisheries  Mechanization Undersecretary and National  Project Director of the DA-PRDP,  Department of Agriculture (Invited)
 

Modernizing the Licensing, Importation, Registration,  Product  Stewardship Processes to Improve the Value  Chain

 Wilfredo Roldan
Executive Director
Fertilizer and Pesticide Authority (Invited)
09:50 AM
PANEL OF REACTORS
 
 Dr. Ernesto Ordoñez
Chair
Alyansa Agrikultura

Dr. Westly Rosario
Chair
Board of Fisheries Technology
 Edilberto de Luna
Executive Director
CropLife

Iiinas Ivan Lao
Country Commercial Lead, Bayer  CropScience
10:30 AM
OPEN FORUM

11:00 AM
RIBBON CUTTING AND VISIT TO THE EXHIBIT
 
 Usec. Bernadette Romulo-Puyat
Administration, Agribusiness and Marketing, and  Regional  Engagement Undersecretary
Department of Agriculture

Usec. Ariel Cayanan
Undersecretary for
Operations and Agri-Fisheries Mechanization and  National Project  Director of the DA-PRDP, Department of Agriculture

Jacques Reber
Chairman and CEO
Nestlé Philippines, Inc.
 Rep. Jose Panganiban, Jr. CPA,  LLB
Chair, House Committee on  Agriculture and  Food

Guenter Taus
President
ECCP


Cau Duong Ba
President
Country & Commercial Unit Head
Syngenta Philippines
12:00 NN
LUNCH
01:00 PM
 Session 2: Empowering Farmers through Capacity Building and  Greater Technical and Financial Access
 Moderator: Ms. Ruth Novales, Vice  President and Corporate Affairs  Executive,  Nestle Philippines
 
 Promoting Investments in High-Value Crops and  Enhancing  Farmers' Income through Agribusiness
 Usec. Evelyn Laviña
High Value Crops Undersecretary
Department of Agriculture (Invited)
 
 Profitability and Sustainability of a One-Hectare Farm
 Atty. Ernesto Mascenon
SVP and Head of Corporate Affairs
Nestle Philippines 
 
 Greater Credit Access through the Production Loan Easy Access  (PLEA) Program
 Jocelyn Alma Badiola
Executive Director
Agriculture Credit Policy Council
01:40 PM
PANEL OF REACTORS
 
 Aidel Belamide
Vice Mayor of Silang, Cavite
Farmer Representative


Edgardo Luzano
Assistant Vice President for Program Management  Department I
Land Bank of the Philippines
 Michael Caballes
President
Allied Botanical Corporation


Flordeliza Sarmiento
Managing Director
CARD MRI
2:20 PM
OPEN FORUM
03:00 PM
 SESSION 3: Achieving Inclusive Growth through Innovative  Technologies and Improvements in the Value Supply Chain
 Moderator: Ms. Raquel Castano
Public & Government Affairs and Market  Acceptance Manager, Bayer  CropScience
 
 Responding to Climate Change in Agriculture through Research  and Development
 Hon. Emmanuel de Guzman
Secretary
Climate Change Commission
 
 Securing Sustainable Fisheries: Increasing Fish Stocks through  Project BASIL
 Cmdre. Eduardo Gongona
Fisheries Undersecretary
Department of Agriculture (Invited)
 

National E-agriculture Strategy: The New Roadmap to Food  Security

 José Luis Fernández
FAO Representative in the Philippines

 

An Alternative and Sustainable Organic Solutions to Improve Yield  and Reduction of Pesticides


 Bart Hagenbeek
Division Manager for Crop and Green Care
Melspring International BV
03:40 PM
PANEL OF REACTORS


 Dr. Mary Ann Sayoc
Lead Public Affairs
East-West Seed Foundation



Hamsha Saz
Crop Expert
Yara Philippines

 Dr. David Johnson
Head of the Crop and Environmental  Sciences Division
International Rice Research Institure

Julian Peach
Director of Knowledge
Grow Asia

04:20 PM
OPEN FORUM
04:50 PM
 Closing Keynote: Strengthening the Agricultural Sector through  Legislature
 Hon. Sharon Garin
Deputy House Speaker, House of  Representatives
05:00 PM
END OF FORUM
Tariff:
Php 2,500 for ECCP Members
Php 2,800 for Non-Members
For inquiries or for registration, call Akiko Hasegawa
at 8451324 or email assist@eccp.com.