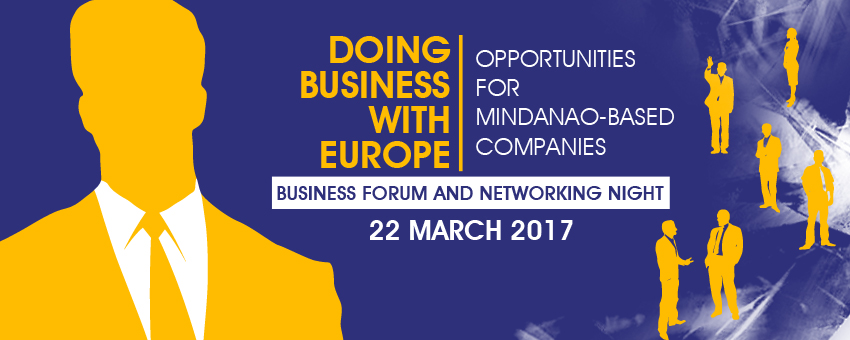 Opportunities for Mindanao-based Companies
Business Forum and Networking Night
Members: Php 1,200 | Non-Members: Php 1,800 | Walk-in: Php 2,000
We are excited to pave the way for Mindanao-based companies to the EU market. To join us in this evening event are ECCP President Guenter Taus and ECCP Executive Director Florian Gottein.
We would like to request for your presence on this early evening event at 6:00 PM on Wednesday, March 22, 2017. Kindly RSVP on or before March 3, 2017.
Moreover, we believe that the forum represents an exceptional opportunity to put your company's brand in front of key industry leaders. By becoming one of the event sponsors, you have the chance to reach this uniquely targeted audience and demonstrate your commitment to industry relationship.
Our Davao Branch Officer, Ms. Ivy Rufin, shall closely coordinate with you for your feedback
and for sponsorship opportunities. For more information and confirmation,
you may contact her through these numbers (082) 273-5500 / 0908-9004288
or email at ivy.rufin@eccp.com.