VENUE:
Richmonde Hotel Iloilo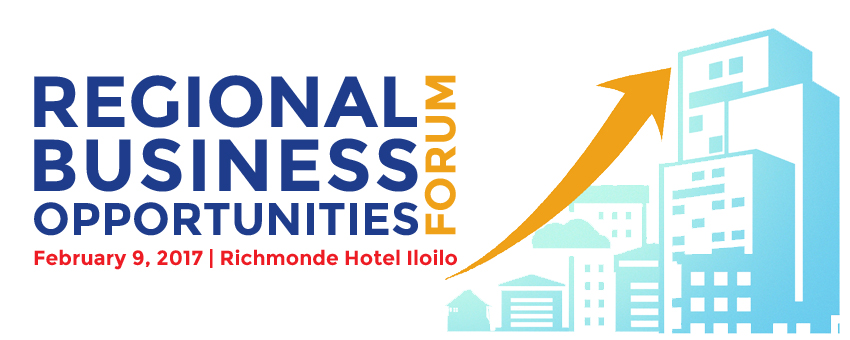 The REGIONAL BUSINESS OPPORTUNITIES FORUM  provides an opportunity for Local Government Units (LGUs), the business sector and civil society to have a constructive dialogue in addressing issues and creating solutions together with respect to promoting integrity and global competitiveness leading to more investments and jobs in localities. The forum also provides a platform for discussing business opportunities in the provinces, cities, and municipalities in the Visayas.

What we would like to achieve is a better understanding of the work done by the LGUs together with their respective Integrity Circles in improving the business climate to attract more investments in their localities and to inform investors on where business opportunities lie. The Forum is also a platform for discussing collaborative initiatives to promote inclusive and sustainable growth.
Program
12:00 pm



Registration


12:45 pm



Call to Order


1:00 pm



National Anthem


1:05 pm



Welcome Remarks and Rationale of the Forum


Dr. Peter Koeppinger


Project I4J Director

SESSION 1: STRENGTHENING POLICIES FOR INCLUSIVE GROWTH AND ECONOMIC INTEGRATION


1:15 pm



Introduction of the Session and Speakers


Mr. Henry Schumacher


Senior Advocacy Adviser
ECCP


1:20 pm



Enhancing the Business Environment for Inclusive Growth


Hon. Zenaida Maglaya


Undersecretary
Dept. of Trade & Industry


1:35 pm



Strengthening Regional Business Integration in Visayas Region


Hon. Michael Dino


Undersecretary
Office of the Presidential Adviser for the Visayas


2:50 pm



Discussion and Open Forum

SESSION 2: DRIVING BUSINESS OPPORTUNITIES IN THE VISAYAS REGION

Partnering with the Provincial Governments in creating integrated and inclusive business


3:10pm



Introduction of the Session and Speakers


Ms. Cris Giangan


Project I4J Manager


3:15 pm



Province of Iloilo


Hon. Lorenz Defensor


SP Member


3:30 pm



Province of Guimaras


Hon. Samuel T. Gumarin, MD, MPH


Governor


3:45 pm



Province of Negros Occidental


Hon. Alfredo G. Marañon, Jr.


Governor


4:00 pm



Discussion and Open Forum

Partnering with the City Governments in Improving the ease of doing business and attracting investments in regions


4:20 pm



Introduction of Session and Speakers


Mr. Gerry Constantino


Director for Projects and Sector Advocacy Events, ECCP


4:25 pm



City of Iloilo


Ms. Donna Rose Ratilla


President
Iloilo Chamber of Commerce & Industry


4:40 pm



City of San Carlos


Mr. George Espinosa


BCBP


4:55 pm



City of Bayawan


Ms. Irel Manansala, RMT, MDC


Tourism & Investment Promotions Officer


5:10 pm



Discussion and Open Forum


5:25 pm



Closing Remarks


Hon. Jed Patrick Mabilog


Iloilo City Mayor

Tariff
Php 1,000 (meals included)
20% discount – LGUs and members of Supporting Organizations
 
Payment Procedure
Please make check payable to ECCP and send a scanned copy of the deposit slip at zyra.fastidio@eccp.com to notify us that payment has been made.
Account Name: European Chamber of Commerce of the Philippines
Name of the Bank: BPI
Bank Address: Cebu-Mango Branch; Gen. Maxilom St., Cebu City
Bank Account Number: 1021-0241-43

For confirmations and more information, 
Please contact Ms. Zyra Fastidio at (632) 845 1324 or email zyra.fastidio@eccp.com