VENUE:
Conrad Manila, Seaside Boulevard, Coral Way, Pasay, 1300 Metro Manila, Philippines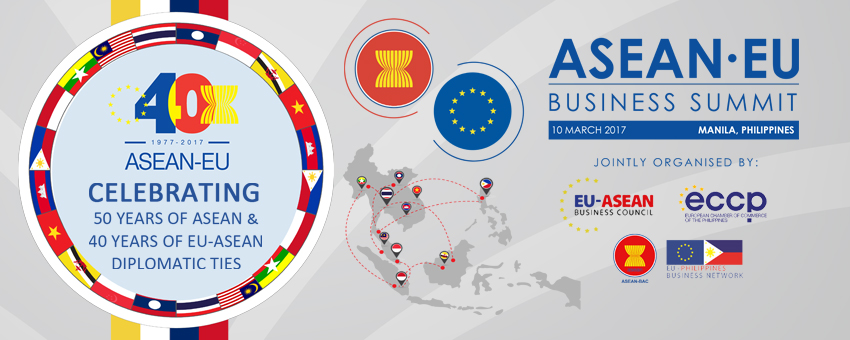 The 5th ASEAN-EU Business Summit will be held in Manila on 10 March 2017. The one-day summit will be a platform for business leaders, thought-leaders and policy makers from Europe and the ASEAN to interact and debate the key business and trade issues of the day.
With 2017 marking the 50th Anniversary of the ASEAN and the 40th Anniversary of official EU-ASEAN relations and dialogues, this is a strategically important year especially with the EU-Philippine FTA negotiations underway. Join us for this special event which will welcome EU Commissioner Malström as well as top ranking government officials, representatives, and delegates from all over the region. 
The ASEAN-EU Business Summit 2017 is jointly organized by the ECCP, the EU-Philippine Business Network, EU-ASEAN Business Council, and ASEAN-BAC.
Click here for more information on the summit and for the agenda »