VENUE:
[New Venue] 2/F DOST 7 Sudlon S&T Complex, Lahug, Cebu City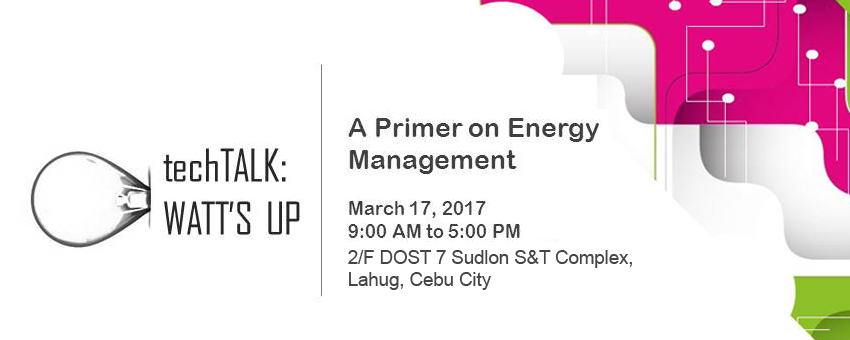 ENERGY MANAGEMENT SYSTEM ( EnMS )- PRIMER
Resource Speaker: Engr. Jose Mari T. Bigornia  PECE, ASEAN Engr., AEMAS CEM
The European Chamber of Commerce of the Philippines (ECCP Visayas) will conduct a primer on Energy Management Systems dubbed as "techTALK: WATTs UP!" on Thursday, 17 March 2017 from 9am to 5pm at 2/F DOST 7 Sudlon S&T Complex, Lahug, Cebu City.
The whole-day seminar will include a situationer on electricity in today's landscape and the current energy transmission management and distribution particularly in Cebu City.
For years, energy and energy efficiency have always been major part of ECCP's advocacies. ECCP Senior Advocacy Adviser Henry Schumacher emphasizes, "without adequate supply of quality energy at competitive prices, business – and subsequently the economy – will suffer."
"techTALK: WATTs UP!" is designed for institutions or individuals who are interested in applying Energy Management Performance in a logical, controlled and systematic way to save energy and reduce cost.
Objectives: 
The participants will be able to:
Understand the full overview of energy management system ( EnMS)      
Help implement an EnMS in the work place / organization
Understand cost and resources requirements for EnMS implementation
Show some of the practical tools that can be use or adapted including pitfalls of EnMS.
Topic Outline:
What is Energy Management?
Getting Started.
     Self-assessment
     Key peoples commitment
     Establish scope and boundaries
     Establish the energy management team
Development of an energy information and plan
     Acquire and analyse energy date
     Determine significant energy users
     Establish a baseline and determine the energy performance
     indicator
     Identify opportunities for improvement
     Establish energy objectives and target
Development of the  day-to-day operations
    Determine operational controls
    Ensure awareness and competence of the personnel
    Implement the action plan
    Design for energy efficiency
    Define procurement practices and purchasing specifications
Determine if the system is performing
    Measure, monitor and analysis
Sustain and continuously improve
     Conduct management review
Energy efficiency application : Creative Options
LEARNING INVESTMENT
            ECCP Members – P2,200
            Non-ECCP Members – P2,600
            Student Rate (undergrad) – P1,980
Pay on the event & Walk-In – P2,800
(Fees are inclusive of snack, seminar kit and certificate)
NOTE: Pre-registration is REQUIRED. Cancellation of request for refund will be accepted if notification is given is writing or email at least 5 working days prior to the event otherwise full participation fees will be charged.
For more inquiries, please contact Christine Teves at Christine.teves@eccp.com or call ECCP Cebu office at (+63 32) 253.3387 or fax (+63 32) 412.1194.