VENUE:
EITSC Training Hub, 19F Philippine AxaLife Center, Sen Gil Puyat cor Tindalo St., Makati City, Philippines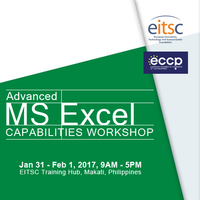 This two-day workshop covers advanced features of MS Excel 2007/2010/2013. This advanced training is designed to enhance the knowledge and skills of the nominated participants in using and maximizing MS Excel.
At the end of this workshop, participants are expected to be capable of creating various data visualizations, pivot tables and electronic dashboards, end-products that simplify and significantly enhance their work throughput and productivity.
Course Overview
This advanced course on MS Excel (covering the 2007/2010 and 2013 versions) is designed to enable participants to understand, practice and eventually apply techniques and features that significantly result to higher work throughput, improved data presentation through visualization and better grasp of data handling.
Who Should Attend
Anyone who has a desire to maximize the built-in functionalities of MS Excel and who wish to address creating productive but powerful electronic workbooks capable of presenting their required output using the powerful features of formatted tables tightly coupled with pivot tables and in turn become the foundation for all related business intelligence presentations, to name a few.
Course Outline
Day 1
Customize the Excel 2007/2010 Program Window
Work with Data and Excel Tables
Apply Visual Effects
Perform Calculations on Data
Create Dynamic Worksheets by Using Pivot Tables
Create Dynamic Charts
Day 2
Using Search and Validation Tools
Analyze Alternative Data Sets
Automate Repetitive Tasks by Using Macros
Work with other Microsoft Office Programs
CONTACT DETAILS:
For confirmations and more information, please contact Ms. Jasmin Runez of ECCP at (+632) 845.1324. To reach us through e-mail, send your message to jrunez@eccp.com.