fairs&more Organization Change
News - July 24, 2012

Dear ECCP Members & fairs&more Partners,

This is to inform you that fairs&more is reorganizing its team in the Philippines and strengthening its support services in China and in Europe.

The fairs&more team in Manila and Cebu is headed by Roselu Paloma. She is supported in Cebu by Erlina Reroma and in Manila by Karen Adecer, Cahea Ang and Dominic Sabado.

Cahea will take over from Joan Zabala who will move to London later this year. Joan will be our beachhead to drive our European events, mainly in Germany, France, Switzerland and Italy.

In Italy, we will add a new exciting retail event, L'Artigiano in Fiera, an International Crafts Selling Exhibition. Joan will assist exporters in post-trade fair follow up services.

In China, we have entered into a close cooperation with Stamm International, and we offer now 'after trade fair' services for our exhibitors participating in Furniture China 2012 in Shanghai. We will commission dedicated staff based in China to follow up with Chinese contacts made during the show.

Looking forward to a continuing and deeper cooperation, I remain.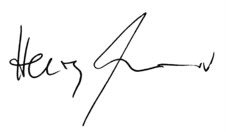 Henry Schumacher
President, FMI
Vice President, ECCP